Best CV Writing Services in the UK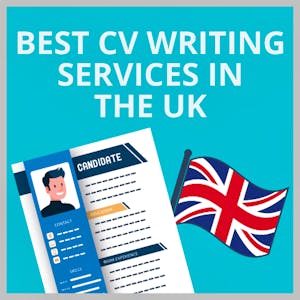 The current job market is an incredibly competitive place, with people doing their best to stand out to potential employers to successfully complete recruitment processes and secure their dream roles.
Having a well-written CV is one of the best ways to create a good first impression.
However, this can be a challenge for those who struggle to promote themselves or those who require a specialised CV for a specific or technical job role.
This is where a professional CV writing service can help.
5 of the Best CV Writing Services in the UK
When it comes to CV writing services, there are hundreds of options to choose from.
With everything from small, independent individuals to large companies that employ dozens of CV writers, there is something for everyone.
We have taken a look at some of the best-rated CV writing services to help you gain insight into what to expect and how to decide on the best service for your needs.
With prices starting at just £45 and individually assigned writers dedicated to providing ATS-friendly CVs, PurpleCV aims to provide personal CVs that will help you gain your dream job.
Purple CV offers a 12-month guarantee on its products, meaning that you are able to request alterations and edits for up to a year if you are not happy with aspects of your CV.
You can also choose between individual CV writing and packages that include LinkedIn profiles and cover letters.
Key Points
Includes a 12-month guarantee
Available 365 days per year
Two to five-day turnaround time
Prices range from £50 for early career level, £190 for niche professions, £95 for mid-career CV and £135 for the mid-career bundle
The CV Centre UK guarantees to match any price, which means it can sometimes be the most affordable option for your CV.
The satisfaction guarantee means that you will be able to make use of an unlimited number of revisions until you are entirely satisfied with the way your CV is written.
Once you have completed an initial consultation, you will be assigned an individual CV writer.
They will communicate with you directly to gather the information needed and ensure that the correct tone of voice is achieved.
CVs are also optimised for ATS software.
Key Points
Price matching
Free 15-minute consultation
Unlimited revisions
With packages tailored to suit the level of employment you are hoping to achieve, The CV Store provides ATS-optimised CVs as well as free cover letters.
There is also the option to add LinkedIn profiles at an additional cost.
For those who are in a hurry to get their application submitted, The CV Store offers turnaround in as little as 12 hours for its CV revamp services.
Unlimited amendments and updates are available, enabling you to keep your CV up to date long after the CV writer has finished their work.
Key Points
Prices range from £70 to £200
Three levels of packages to choose from
Fast turnaround
Free reviews of your existing CV
Providing a range of services including CV writing, cover letters, LinkedIn profiles and coaching, City CV is an award-winning industry leader.
The variety of available packages means that you can choose one suited to the level of employment you are applying for.
After an online or telephone consultation, your professional CV writer will get to work shaping your CV to highlight key attributes and ensure that it is properly formatted and ATS optimised.
The typical turnaround time is seven working days, although this can be as little as 48 hours if you are working to a tight deadline for submission of your CV.
Key Points
Prices range from £499 to £1,599
Wide variety of packages available
Seven-day turnaround time
Although its website states prices in USD, Find My Profession is one of the top-rated CV writing services in the UK. This award-winning company provides everything from cover letters to career coaching.
A variety of CV writing packages are available, each suited to a different level of business, enabling you to make sure that your CV is as good as it can possibly be.
It offers a 60-day interview guarantee, meaning that it guarantees you will gain an interview within your chosen field within 60 days of receiving your new CV.
With a turnaround time of between three and five days, online communication with your professional CV writer and unlimited edits until you are satisfied, you will be able to get your new CV quickly and easily.
Key Points
Prices range from 1,295
Includes a 60-day interview guarantee
Unlimited edits
Three to five-day turnaround
What Are CV Writing Services?
If you are unsure how a CV writing service may benefit you in your job search, it may be best to first consider what exactly a CV writing service is.
In simple terms, CV writing services connect job hunters with professional writers who will compile your CV for you and present it in an easily digested format tailored to the industry you are hoping to work in.
CVs can be further tailored to specific roles if this is required, although many people choose to keep their CV a little more generalised and simply edit the opening statement or cover letter to personalise it for each individual job application.
Most jobs will require you to submit a CV as part of the initial application process. It is the first impression that a potential employer will have of you and is designed to give a sense of who you are as a person, as well as how well you fulfil the criteria of the role you are applying for.
CV Writing Services and Applicant Tracking Software
More and more companies are using Applicant Tracking Software (ATS) to process CVs during the initial application process. This software is designed to look for specific keywords before moving applicants to the next stage of the recruitment process.
Using a CV writing service can help to make sure that your application is formatted properly so that it is approved, rather than being sent to the rejection pile.
When to Use a CV Writing Service
Anyone can use a CV writing service, but if you have been applying for jobs for a few months without success then a CV writing service could be particularly helpful for you.
They can also be helpful for those who struggle with writing or if you feel uncomfortable promoting yourself.
As with anything, if it isn't a particular skill of yours, then it might be best left to the professionals.
How to Pick a Professional CV Writing Service in the UK
There are so many different CV writing companies to choose from that it can seem impossible to actually choose.
Deciding which CV writing service is going to be right for you can be a relatively personal decision as you will need to feel comfortable discussing your work history, qualifications and interests with a stranger.
However, there are a few things to consider that can be used as a benchmark against any of the potential services you are considering using.
Step 1. Look at the Reviews
While reviews aren't always completely reliable, they can often give some insight as to the quality of work and what a company is like to communicate with. If the same issues keep being repeated within the reviews, then it can act as a warning.
Equally, if a company is regularly praised for the type of work that you need, you can usually be confident in your decision to choose them.
When looking at reviews, it can be helpful to use independent websites such as Trustpilot. Companies will understandably only want positive reviews listed on their website, so using an independent site will help you to gain a better understanding of how they work and overall customer satisfaction.
Step 2. What Is Included in the Cost?
Many professional CV writing services will offer a range of packages to suit different needs.
Often, these packages will include cover letters and LinkedIn profile writing services, with options tailored to account for different budgets.
Step 3. What Is the Policy for Revisions and Edits?
It is unlikely that your CV is going to be completely perfect on the first attempt and many CV writing services will allow a set number of edits and revisions as part of the process.
Make sure that you know the policy of each company before choosing one so that you know what the process is if you are unhappy with the finished result.
Step 4. How Much Does It Cost?
Expensive doesn't always mean good and cheap doesn't always mean bad. When using any CV writing service you should make sure that it is not only affordable but also offers good value for money.
Step 5. How Long Does the Process Take?
Most CV writing services will aim to provide a relatively quick turnaround, with the majority offering to complete your CV within a week. However, you will need to make sure that your document is able to be completed in time for you to submit it to the vacancy that interests you.
If a company seems to have a long turnaround time, then it can be a sign that they aren't the one for you.
Equally, some companies will claim to provide professional CVs within 24 or 48 hours. While some of these are genuine professional services that provide outstanding results, a fast turnaround time can also be a sign of a rushed job or lower-quality writing.
Step 6. Do They Have Samples You Can Look At?
Looking at samples is one of the best ways for you to see the quality of writing provided by a CV writing service.
Ideally, a company will have a variety of different samples available for you to look at, enabling you to look at tone of voice, format and other factors before deciding whether or not they are likely to be able to fulfil your requirements.
The best CV writing service in the UK will largely depend on your needs. Some of the best companies currently available to consider are:
PurpleCV
The CV Store
Find My Profession
It can be, yes. If you don't feel confident writing your CV or need it for a very niche role, then it can be a good idea to ask a specialist to write it for you.
This will ensure that it is formatted correctly for Applicant Tracking System software as well as guarantee that it is written to highlight all of the attributes that are most relevant for the role or industry.
The price will vary depending on the company you choose and the services that it provides.
You may also find that there will be a range of prices that increase if you are applying for a more senior role.
Websites like Trustpilot and Google are very useful when it comes to comparing CV companies as they are independent of the companies themselves.
Here, you will be able to find a variety of reviews from people who have previously had contact with the CV company or used its services.
There are no hard and fast rules as to how your CV should look. Generally, you should try to keep it concise, with everything fitting on two sides of A4 paper.
It is also a good idea to make sure that you use black lettering in a font that is easy to read and in a standard size.
Most people will begin their CV with contact information and a short overview section followed by information about their skills, work history and education.
If you have more than 10 years of work history, there is no need to include more than this.
There is also no need to include any private information regarding gender, physical attributes, sexuality, age or health issues.
This really depends on the company you are applying to work for. Some of them will want to know absolutely every detail, while others prefer a more general overview.
Generally, you don't need to include any more than 10 years of work history along with information about qualifications and the year you gained them.
It is usually a good idea to think about the job that you are applying for when you are putting together your CV. If you are applying for a senior management role in banking, it is unlikely that you will need to include the week of work experience that you did when you were 16 years old.
However, if you don't have very much work experience, then it is more important to include all of the paid and voluntary roles you have held.
Currently, The CV Centre is the most popular CV writing company in the UK, although there are plenty of others to choose from.
Most CV writing services will aim to provide a first draft of your CV within a week. You may find some services offer packages that include faster turnaround times for those individuals who need to submit their CV quickly.
If you have little experience, you may feel that it would be best to save money and write your CV yourself. However, a professional CV writing service can help you to identify skills and strengths that you might not have previously considered.
If you don't want to pay out for a CV writing service, perhaps consider having your current CV reviewed by a professional instead. They will be able to give advice regarding structure, grammar, readability and layout.
Anyone can use a professional CV writing service, but they will typically be used for more senior-level roles.
They can be adapted for any industry and purpose and many companies offer free initial consultations.
Final Thoughts
In most cases, your CV is the first impression that a potential employer will have of you. This is why it is important to make sure that the document you submit is as good as it possibly can be.
Using a professional CV writing service provides confidence that your best attributes will be highlighted and the most important information will be easily noticeable.
A professional CV writing service is especially important if the role you are applying for is highly specific in its requirements or you are uncomfortable promoting yourself and your abilities.
When used effectively, a CV writing service can make the difference between your CV ending up in a pile of rejections and being offered an interview.
---