The main purpose of the CogAT Test grade 3 is to find out if a third grader is showing signs of being very smart.
Most of the questions on the test are about verbal, numerical and non-verbal reasoning. It's meant to show how a child might compare to other kids his or her age. The CogAT grade 3 test can also be used to make individualized learning plans for kids.
The CogAT (Cognitive Abilities Test) is a standardized test used to measure children's cognitive abilities in the 3rd grade – age 9.
This test assesses a range of cognitive abilities, including verbal, quantitative and nonverbal reasoning. The CogAT is often used to identify gifted children and help educators develop appropriate educational plans.
This article will give insights and tips into how your child could pass the CogAT Test for 3rd-grade students.
Why Is the CogAT Test Grade 3 Used?
The CogAT provides educators with a better understanding of a child's cognitive strengths and weaknesses.
This understanding can help teachers develop appropriate educational plans addressing the child's needs.
By identifying a child's strengths, teachers can create opportunities for them to excel and develop their potential.
Likewise, teachers can create strategies to help the child improve in those areas by identifying weaknesses.
One of the benefits of the CogAT is that it is a reliable and valid measure of cognitive abilities.
The test is standardized, meaning that it has been administered to a large number of students, and the results have been analyzed to ensure that the test is measuring what it is intended to measure.
The test is also reliable, producing consistent results when administered to the same group of students multiple times.
Because much of the test is considered non-verbal, the test is useful for children who speak English as a second language.
Another benefit of the CogAT grade 3 is that it can help to identify potentially gifted children.
The test measures a range of cognitive abilities, including those that are often associated with giftedness, such as verbal and nonverbal reasoning.
By identifying children who excel in these areas, educators can provide appropriate educational opportunities to help them reach their full potential.
What Is the Test Format for the CogAT Test Grade 3?
The CogAT for third graders contains 170 questions in total.
The CogAT is split into three parts:
The Verbal Battery
The Quantitative Battery
The Nonverbal Battery
As children grow up and take the CogAT test throughout their academic careers, these three batteries will remain the same.
The level of the questions will depend on the age of the child taking the test.
Therefore, 3rd-grade children will be sitting level 9 questions because they are nine years old.
Students are given a total of 145 minutes to complete all three subtests. The questions increase in difficulty as the test progresses, and the total score is calculated by adding the scores of all three subtests.
Here's a brief overview of how the different batteries compare:
Quantitative Battery – Participants will be asked to complete questions based on number series, number puzzles or number analogies.
Non-verbal – Children will be asked questions on subject areas such as figure matrices, paper folding and figure classification.
Verbal – In this sector, questions will be based on picture/verbal classification, picture/verbal analogies and sentence completion.
CogAT Test Grade 3 Prep – Practice Questions
Here are some sample CogAT 3rd grade test questions.
These CogAT 3rd grade practice test questions may help you identify what to expect from the assessment.
CogAT Grade 3 Practice Test Questions – Verbal
Verbal Analogy
The example words are related to one another. The second pair of words should relate similarly.
Choose the word that completes the second pair.
First Pair: Carrot = Vegetable
Second Pair: Rose = ?
a) Compost
b) Flower
c) Tree
d) Petal
The correct answer is: b).
A carrot is a type of vegetable, and a rose is a type of flower. The question is checking that participants can understand similarities and types.
Sentence Completion
Here is a group of words. Which word best matches this group?
Computer, Monitor, Mouse
a) Webcam
b) Desk
c) Chair
d) Stapler
e) Hole punch
The correct answer is: a).
All the words relate to items you may find on a typical desk. But the webcam is the only one that is a piece of technical equipment.
CogAT Grade 3 Practice Test Question – Quantitative
Number Series
What is the next number in the series?
2, 4, 6, 8, ?
a) 3
b) 5
c) 10
d) 12
d) 11
The correct answer is: c).
The numbers are going up in two times tables, so the missing answer is 10.
Number Analogies
You have been shown three pairs of numbers. Each pair has the same relationship.
What is the missing number from the third pair?
21 = 25
4 = 8
37 = ?
a) 41
b) 26
c) 13
d) 38
e) 45
The correct answer is: a).
The difference between the first and second numbers in each pair is +4. The pattern should be the same in the third set, so 37 + 4 = 41.
CogAT Grade 3 Practice Test Question – Non-Verbal
Figure Classification
The images shown are printed in a specific pattern. Which image follows as the next logical step in the pattern?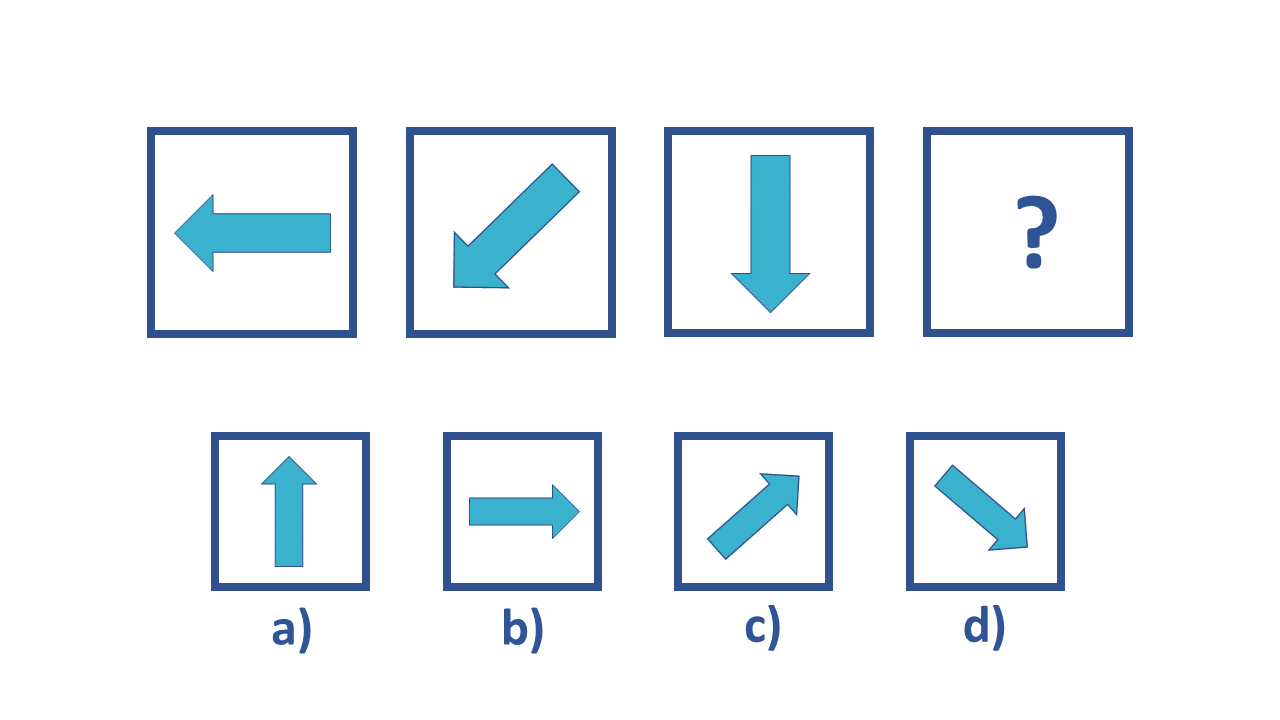 The correct answer is: d).
The pattern in the arrows is turning anti-clockwise. Therefore, the next in the pattern is logically d).
If you want 12-month access to all the practice resources for this test, our partner TestPrep-Online.com offers a Family Membership.
Family Membership gives you access to all the TestPrep-Online resources for the next 12 months. You will also get two separate accounts, which can be very helpful if you have two children preparing for their tests.
How Is the 3rd Grade CogAT Test Scored?
You and your child will need to understand a variety of scores once you have received your CogAT 3rd grade score chart.
Your child's class teacher will explain all the details to you if you have any questions, but it's also worthwhile understanding the scoring system before your child sits the assessment.
You should also be aware that the scores will be based on your child's age, not their grade level.
Raw Score
This raw score corresponds to the number of questions your child answers correctly on the test.
These raw scores are used to calculate other scores, such as age scores and grade scores.
Universal Scale Score
Each raw score will be translated into a normalized standard score.
This is called the Universal Scale Score and is used to directly compare students against their peers, showing those who do have signs of being gifted.
You can expect to receive three USS scores, one for each battery – for the test's verbal, quantitative and non-verbal parts.
A composite Universal Scale Score is created by averaging the three scores.
Standard Age Score (SAS)
The Standard Age Score compares your child with other children of the same age.
On the CogAT grade 3 Test, the maximum Standard Age Score possible is 160. The average score for a nine-year-old is 100.
Percentile Rank (PR)
The Percentile Rank for your child's age shows how many other students scored the same or lower than your child.
For example, if your child achieved a Percentile Rank of 72, it means your child scored higher than 72% of the children who took the test.
As you can expect from an average score, the typical Percentile Rank is 50.
Stanine Score
A Stanine Score is another variation of a Percentile Rank.
The Stanine Score ranges between one and nine. Four is considered to be a low average, while six is a high average.
How to Prepare for the CogAT Test Grade 3
Preparing for a CogAT grade 3 test requires a comprehensive approach that addresses both cognitive skills and overall well-being.
Here are some steps that you and your child can take to prepare for the test:
Practice All the Test Levels
Sample tests that look like the CogAT are necessary if you want your child to be ready for the real thing.
This will help them know how the test is set up and what to expect on test day.
A CogAT test for third graders will be based upon level 9 questions, but if your child is showing signs of genius, you should look to practice the level 10 and level 11 test questions as well.
Working beyond their expected level will give them a better understanding of the types of questions they might encounter and could improve their cognitive skills.
Take Care of Their Well-Being
Children sitting the CogAT Test grade 3 are only nine or 10 years old. They need time to sit and play and act like children.
Implementing a study schedule should only take place when your child feels relaxed, calm and refreshed, and ready to learn.
It is well known that students perform best when they are well-rested, well-fed and hydrated.
Therefore, ensuring that your child gets adequate sleep, eats a nutritious diet and drinks plenty of water is important.
Identify Weaknesses and Seek Additional Help
Reviewing practice papers can help you identify areas where your child may need extra practice.
Additional tuition in these areas can be sought to improve their performance.
Practicing Ahead of Time Is About Confidence
When they're practicing sample CogAT 3rd grade test questions, pay attention to see which ones are giving them trouble.
This will give you a good idea of which areas need more targeted help.
Only use the practice tests for short amounts of time, and make sure you tell your child how well they are doing.
This will stop them from seeing it as a bother. They need to be continually motivated to do their best.
From a confidence perspective, having your child take a practice CogAT grade 3 Test is a good way to ensure he or she knows how to answer the questions.
You can find a free sample CogAT 3rd grade test at TestPrepOnline.
In addition, if they understand what they are being asked to do, they'll score better when test day comes.
Use Motivation Techniques
You can motivate your child to do well on the test through rewards for practicing and performing well.
This includes extra screen time, a favorite snack or a small toy.
By following these steps, they can be better prepared for the CogAT grade 3 test and improve their chances of success.
Frequently Asked Questions
What is the CogAT test grade 3?
The verbal, nonverbal and quantitative abilities of students are evaluated with the help of the CogAT third-grade test.
This assessment is frequently used in the selection process for gifted education programs.
The CogAT is considered a particularly reliable instrument for determining students' academic strengths and weaknesses.
Is the CogAT test grade 3 hard to pass?
The third-grade CogAT test is harder to pass than the test administered in the second grade.
This is because as pupils age, questions become much harder in line with what they have been learning in school.
As this is a standardized test, most children will perform on average.
However, if a child achieves a higher-than-expected score, it could suggest that they are gifted and eligible for advanced academia.
Where can I find CogAT test grade 3 prep materials?
There are books you can purchase via the likes of Amazon that will help you make the most of practice CogAT grade 3 test questions.
In addition, these books allow you to dip in and out of the topic, making learning fun.
If you're looking for online resources, sites such as TestPrepOnline allow you to use digital learning packs for your CogAT Test 3rd grade prep.
You can find resources like free CogAT grade 3 worksheets online too.
Is the CogAT test grade 3 timed?
Students sitting on the CogAT grade 3 test will have 145 minutes to complete the assessment.
What is the purpose of the CogAT test grade 3?
A student's cognitive development level and pattern are evaluated using the CogAT Test.
As a standardized test, it can directly compare them to students of the same age and grade level.
If a child outperforms their peers, it's a clear sign that they could be gifted and suited to a higher level of learning.
What is a good score for the CogAT test grade 3?
Children are asked to sit the level 9 test questions at this stage. Again, there are various scores given, which you'll see in their CogAT 3rd grade score chart.
The raw score is the basic number of correct answers.
The Standard Age Score compares your child with other children of the same age. On the CogAT grade 3 Test, the maximum Standard Age Score possible is 160. The average score for a nine-year-old is 100.
The Stanine Score ranges between one and nine.
Four is considered to be a low average, while six is a high average.
The Percentile Rank confirms how your child compares to other people. For example, the average Percentile Rank on the CogAT grade 3 Test is 50.
Where can you get CogAT 3rd grade sample questions?
Sites such as TestPrepOnline offer a variety of practice CogAT grade 3 test questions, including a free CogAT grade 3 practice test.
These are helpful resources you can use in your CogAT Test 3rd grade prep that can familiarize your child with the type of question that may arise.
Can you fail the CogAT test grade 3?
There are no pass/fail scores, but they do indicate intelligence and capabilities.
If your child scores lower than their peers, the teachers can use the insights to create a bespoke plan to help them improve their learning.
Is the CogAT test grade 3 mandatory?
Most schools use the CogAT testing system throughout the school system because it confirms if students are learning at the right pace.
If a student starts to fall behind, the CogAT Test can easily identify this at an early stage.
Can you retake the CogAT test grade 3?
You are allowed to retake them, but you cannot retest more frequently than once every six months.
In addition, you will be asked to sign a document at the time of test registration that states that your child has not taken these tests within the past six months and will not take them within the next six months.
Where can I get a complete guide for the CogAT test grade 3?
A good place to look for a comprehensive guide is TestPrepOnline.
Not only is it packed full of learning resources, but it also offers 3rd grade CogAT practice tests.
Final Thoughts
When children are in the third grade, the tests they take in school may become difficult, tricky and even overwhelming.
As a parent, it's your job to help your child feel prepared for the CogAT grade 3 Test and reduce any stress or anxiety they may have.
CogAT grade 3 tests are useful tools to assess intelligence. But it is important to remember that your child's CogAT test results are not the only measurement of their abilities.
Their teachers will be able to confirm how well they interpret information, respond to work tasks, relate to their peers and get on socially with others.
All of these aspects combined make a well-rounded individual.
The CogAT is a test that focuses solely on cognitive reasoning, which is subject to influence from various factors.
If your child feels anxious about the test, you should remind your child that the CogAT test is not an IQ test.
It's not an evaluation of the knowledge they have gained throughout their education.
Your child may be better suited to think of it as a relaxed and informal activity that they might even come to enjoy.
By taking practice test questions often, you can help your child carry out their CogAT Test 3rd grade prep in an informal and low-key way.
This will ensure that they make the most of their opportunity to take the CogAT test.