A Guide to the FBI Phase 1 Test: Examples & Tips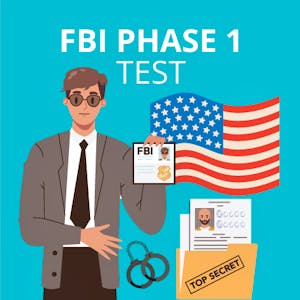 The Federal Bureau of Investigation (FBI) is the domestic intelligence and security service of the USA.
The agency investigates serious offenses such as terrorism, public corruption, cyber-attacks, and violent and organized crime.
The FBI's mission is to protect the American people and uphold the American Constitution.
The FBI has over 37,000 employees across hundreds of locations in the US.
To work for the FBI, you must fulfill specific criteria which include:
Be a US citizen
Be able to obtain an FBI Top Secret clearance
Pass the FBI polygraph examination
Pass the FBI Phase 1 test
Adhere to the FBI drug policy
Roles available at the FBI include computer scientists, nurses, engineers, technicians, contract specialists, and of course, police officers.
It is important to note that the recruitment process can take over one year, so you must be willing to wait several months for the chance of your dream role.
In this FBI Phase 1 test prep guide, we will delve into the role of FBI special agents – upholders of the law that seek out cybercrime and infiltrate organized attacks such as terrorism.
When applying to be a special agent, you are required to take the FBI Phase 1 test.
What Is the FBI Phase 1 Test?
The FBI Phase 1 test is an assessment that evaluates your personality and suitability for a role as a Special Agent at the FBI.
The test is conducted online and is split into five parts.
As the second stage of the process, the FBI Phase 1 test is done after the successful completion of a written application.
The test is designed to assess several skills and qualities that are required for a role as an FBI special agent.
These include critical thinking, logical reasoning and personality. The test will also assess your background experiences.
Your answers are then compared to the benchmark of what is suitable for an FBI agent.
The five sections of the FBI Phase 1 test are:
Logical reasoning
Figural reasoning
Personality Test
Preferences and interests
Situational responses
The assessment takes three hours to complete.
When applying for roles at the FBI, long waiting times are typical. The full special agent recruitment process can take over 20 months to complete.
If this is your dream job, it is certainly worth the wait as it is one of the most attractive career paths within any government agency.
To reflect this, the recruitment process is challenging and designed to reduce the number of candidates who could move on to the next stage.
This ensures that only the very best move through the application phases. In fact, only 30% of candidates can pass the FBI Phase 1 test.
You may have taken a personality test before, but the FBI Phase 1 test questions are framed and marked in a different way to other assessments.
Therefore, you should ensure you use FBI Phase 1 test practice questions and prepare in advance of the test.
It can be hard to plan for, but this is essential to get into the top 30% of successful candidates.
If you pass the FBI Phase 1 test, you will undergo background checks and receive an invitation to a regional meet-and-greet interview.
What Are They Looking For in the FBI Phase 1 Test?
The FBI Phase 1 test is designed to assess whether your values align with what the role of a special agent requires.
The FBI's core values are:
Respect
Integrity
Accountability
Leadership
Diversity
Compassion
Fairness
Rigorous obedience to the American Constitution
These ethics are at the foundation of the FBI, and so should be shared by every individual that works for them.
The ethical positions and skills the hiring team at the FBI is looking for include:
Compassion
Fairness
Uncompromising integrity for personal and institutional entities
Accountability
As you can see, the values being assessed strongly align with the principles of the FBI.
Example Questions for the FBI Phase 1 Test
In this section, we will go through the different sections of the FBI Phase 1 Test.
We have provided example FBI Phase 1 test practice questions so you can begin practicing for the assessment.
Logical reasoning FBI Phase 1 practice test free
In this section, you will be presented with several short passages followed by a set of statements.
You will need to read each passage and decide which of the five choices best suits the statement.
This section tests your ability to make decisions, pay attention to detail and use your logical reasoning.
With 40 to 50 questions, this section forms the bulk of the test.
You will have 90 minutes to answer all questions – an average of around two minutes for each.
Example Question
'The definition of an eyewitness is a "person who has seen something happen and can give a first-hand description of it." Eyewitnesses testify their knowledge of a crime as they have experienced it through their five senses. They are important to juries in criminal trials as they can provide an account of what happened.
'With eyewitness accounts, there is a risk of false memory syndrome impacting what the bystander believes they have seen. If an eyewitness identifies a perpetrator in a line-up, they are increasingly likely to identify the same person in a second line-up – even if that person is not the perpetrator.
'In a recent trial, John Smith was an eyewitness in several line-ups. Due to the false memory effect, most of his attempts at identifying the perpetrator have been incorrect.'
Using the information above, which of the following conclusions are valid?
a) When an eyewitness identifies a perpetrator in a line-up, they have a higher probability of being incorrect.
b) At least one of John Smith's attempts to identify the perpetrator is likely to be false.
c) If a witness's testimony is not based on their senses – such as seeing, hearing, smelling, and touching – they are not considered to be a credible eyewitness.
d) If an eyewitness fails to identify the perpetrator, it can be assumed that they have most likely taken part in more than one line-up.
e) There are some witnesses in a case, aside from eyewitnesses, who do not rely on their senses.
Example Question
Which of the below images best completes the pattern?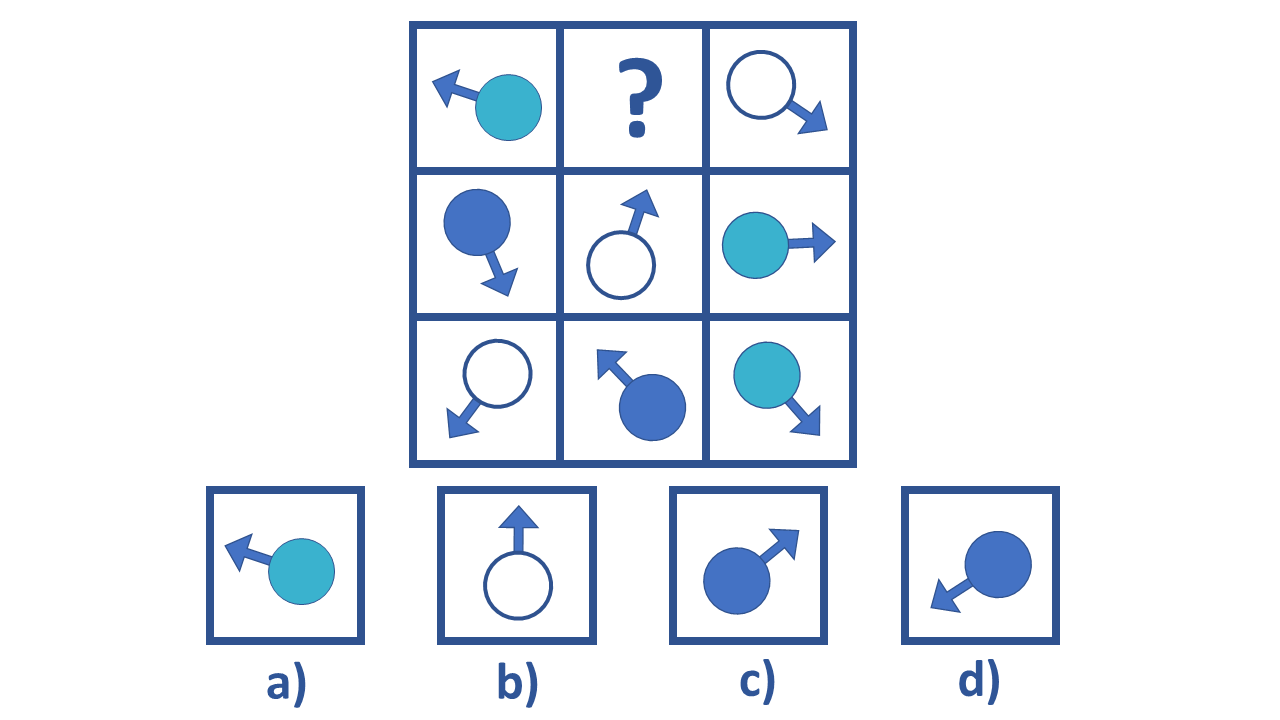 Example Question
'I find it hard to make decisions.'
strongly agree (1) | (2) | (3) | (4) | (5) | (6) | (7) | (8) strongly disagree
Preferences and Interests FBI Phase 1 Free Practice Test
An FBI special agent must be a well-rounded individual, and so this section is designed to gather information about your personal preferences.
The 37 questions will be on a variety of topics such as time management, career progression and work preferences to allow the recruitment team to understand your character.
The questions in this section may be similar to the Personality questions.
Example Question
'When working in a team, my priority is ensuring that the work we do exceeds expectations. This is more important to me than making sure that all team members are completing the same amount of work.'
a) Strongly agree
b) Agree
c) Neither agree nor disagree
d) Disagree
e) Strongly disagree
If you need to prepare for a number of different employment tests and want to outsmart the competition, choose a Premium Membership from JobTestPrep.

You will get access to three PrepPacks of your choice, from a database that covers all the major test providers and employers and tailored profession packs.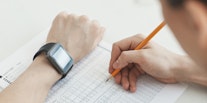 FBI Phase 1 Test (Examples/Guide/Tips)
Situational Responses FBI Phase 1 Free Practice Test
This section tests your on-the-job judgment. Being able to handle decisions and changes in the environment is a crucial part of working in the FBI, and these questions will assess how you prioritize and make choices.
You will be provided with problematic scenarios and asked what action you would take to deal with them.
Next, you will be asked to rate the effectiveness of the responses from most to least effective.
This section includes 19 questions.
Example Question
'You are checking a report written by your colleague when you spot some details that need to be changed. You raise this with your colleague, but they believe that their original version is better and does not require any changes.'
From the information stated above, it is valid to make which of these conclusions:
a) Tell your superior that your colleague is not accepting the changes
b) Ask another colleague to speak to them about the report
c) Change the report anyway without telling your colleague
d) Arrange a discussion with your colleague to explain what you think needs changing
e) Keep the original version as it is
How Is the FBI Phase 1 Test Scored?
The FBI Phase 1 Test is scored as a pass or fail.
As well as testing your abilities to apply the subjects of English, Math, and logic to questions, this assessment evaluates your personality and ethical approach to work and decisions.
The FBI Phase 1 test pass rate is just 30%, so you should do plenty of preparation and revision to achieve a good score.
Format of the FBI Phase 1 Test
There are several ways that the FBI Phase 1 exam is different from other tests.
The format of the assessment is outlined below:
Logical Questions
The first set of questions is a set of 11 logic questions.
In this section, candidates are provided with a short piece of text and then some statements related to the text.
The candidates have to say which of the statements is true.
Figural Reasoning Questions
This part of the test provides the candidates with a chance to showcase their problem-solving abilities.
They are provided with a sequence of pictures or shapes. The task is to deduce the next correct image in the sequence.
Patterns are displayed in rows and columns.
They may be present in any aspect of the diagrams, including the color, size, linear shape, shading or other elements.
Personality Test
There are 100 questions on the FBI Phase 1 Personality Test.
Each question challenges the candidate between two opposing descriptions of a personal characteristic that are unrelated.
Five of these questions appear on the screen at the same time. After these are completed, another five are completed.
The next five that appear will be different for each candidate and will depend on the previous answers as this is an adaptive test.
There are no right or wrong answers in the personality test.
The answers provided are likely to be compared to answers in the preferences and interests and situational response sections.
The number of questions suggests that they should be answered with an immediate response.
There are four options for the answer:
Strongly agree
Agree
Disagree
Strongly disagree
There is no neutral response of 'neither agree nor disagree.'
What to Expect at the FBI Phase 1 Test
The tests are administered at local testing sites that are managed by PSI (Public Services International) services and are not affiliated with the FBI.
The tests are monitored by the proctors, who are unaware of the test content and are unable to offer help or support with the test.
Once the invite has been sent to a candidate, there are 21 days to schedule and complete the test.
Candidates need to take a driving license or any other form of official photographic ID.
The candidate should not take anything else. This includes a backpack, bags, purses, pens or pencils. There are no paper calculations allowed during the test.
The test can not be disrupted by any bathroom breaks. It is highly recommended to wear comfortable clothing and dress with layers that can be added or removed. There is no standardization of temperatures at testing centers, so it may be hot or cold.
You are not allowed to discuss the test with anyone before, during or after the test.
How to pass the FBI Phase 1 Test: FBI Phase 1 Test Prep
The FBI Phase 1 test is a critical step for anyone seeking a career as an FBI agent. It's a challenging and comprehensive assessment designed to evaluate your cognitive abilities, integrity and suitability for the role. To pass the test, you need to be well-prepared and know what to expect.
Here are some key tips:
Step 1. Be Honest
Honesty and integrity are crucial for an FBI agent.
The agency wants candidates who are truthful in their answers and demonstrate ethical behavior.
It's essential to answer all questions truthfully and provide accurate information during the application process.
The FBI conducts a rigorous background check and any inconsistencies or dishonesty can disqualify you from consideration.
Step 2. Practice
To prepare for the FBI Phase 1 test, practice with FBI Phase 1 test questions and other resources.
The more you practice, the more familiar you'll become with the test format and types of questions you may encounter.
Set a timer for three hours to simulate the actual test environment, and take several practice tests to get a better understanding of your strengths and weaknesses.
Step 3. Prepare
Getting in the right frame of mind is crucial when taking the FBI Phase 1 test.
Ensure that you get adequate rest, eat well and wear comfortable clothing.
Avoid going into the test hungry or thirsty, as this can affect your concentration and performance.
Consider taking some time to relax before the test, such as meditation or breathing exercises, to reduce stress and anxiety.
Step 4. Book Your Test Straight Away
As soon as you receive the invitation, book your test date to allow for adequate preparation time.
The FBI Phase 1 test is only available at specific times, and the slots fill up quickly.
By booking early, you can secure your preferred test date and avoid last-minute stress and scrambling.
Step 5. Research
Familiarize yourself with the FBI's history and requirements, as this will help you understand what the organization is looking for in potential candidates and how you can apply that knowledge to the test.
Research the FBI's core values, mission and role in law enforcement.
Also, review the requirements and qualifications for becoming an FBI agent, such as education, experience and physical fitness.
To pass the FBI Phase 1 test, you should make sure you do plenty of practice with FBI Phase 1 test practice questions. By understanding what the test includes, you can feel prepared and answer to the best of your ability.
To study for the test, you should make use of online sample tests that replicate the actual assessment. This will give you an idea of what the sections include.
You should also make research part of your study. Understanding what kind of individual excels in a career with the agency will help you in answering the FBI test questions in the personality section.
The FBI Phase 1 test is an assessment that evaluates your personality and suitability for a role as a Special Agent at the FBI.
The test is done online and is split into five parts.
The FBI Phase 1 test is three hours long.
The FBI Phase 1 exam is considered extremely hard and has just a 30% pass rate. It is designed to be difficult to enable the very best candidates to progress to the next stage.
With each intake, around 70% of candidates fail the FBI Phase 1 test.
You can find many sample questions and mock FBI Phase 1 tests online.
You should wear comfortable clothing that is appropriate for an exam.
Avoid wearing anything that could be distracting or uncomfortable, such as tight-fitting or revealing clothing.
It's important to feel comfortable and confident during the test, so choose something that makes you feel at ease.
Additionally, be sure to check the guidelines provided by the FBI regarding clothing and personal items that are allowed in the testing room.
If you fail the FBI Phase 1 exam for the first time, you can retake the assessment after 90 days.
If you fail it for a second time, your Special Agent application will be permanently deactivated.
The FBI Phase 1 test passing score is calculated using the combination of all three exams rather than a candidate receiving a score for each exam.
You will receive your FBI Phase 1 test results – and notification of whether you have passed or failed – within 30 days of completing the test.
There are several resources available online that offer a complete guide for the FBI Phase 1 test. One such resource is JobTestPrep, which provides comprehensive study materials, including practice tests, video tutorials and study guides.
The FBI's official website provides guidance on what to expect in the test and offers some tips and suggestions on how to prepare yourself accordingly.
---