A Study Guide for the 2nd Grade MAP Test: with Tips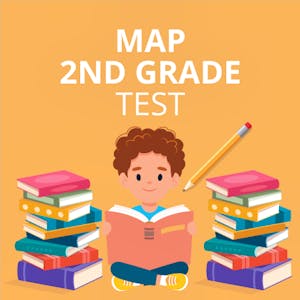 The MAP Test 2nd grade is a computerized test taken by children in the 2nd grade. It is designed to evaluate what the children already know and what they are ready to learn.
The test includes three sections:
Schools may not administer all three sections and may instead focus on one or two sections to measure pupils' progress in those subjects.
What Is the 2nd Grade MAP Test?
The NWEA Measures of Academic Progress (MAP) Growth test, or in this case, the MAP Test 2nd grade, is taken by pupils in the 2nd grade of primary education, typically aged between seven and eight years old.
The test is used to assess the academic progress of pupils in the 2nd grade and evaluate the level they are learning at.
It is usually taken three times throughout the school year.
The timeline for the MAP test is as follows:
The first test is taken at the beginning of the year. These 2nd grade Spring MAP scores are used to benchmark pupils' current educational standard.
The second test is taken in the Winter to determine progress since the first assessment.
The third test is taken in the Spring to demonstrate the level of academic growth throughout the year.
The purpose of the test is to evaluate what Grade 2 students already know, as well as their potential for learning new information.
It can also be used as a qualifier for entry onto gifted programs. As the MAP test is computerized, pupils will take the assessment online.
There are three sections in the MAP test for 2nd grade:
However, schools do not need to administer all three sections.
The MAP test is adaptive, which means that when a student gets an answer correct, they are provided with a more challenging question.
If they answer a question incorrectly, the next question they get will be easier.
The adaptive style of the MAP test allows students the opportunity to answer questions that are above or below their grade, depending on their intellectual capacity.
Your second grader's school will use pupils' scores to determine if they are ready for the next step of academia.
In this guide, we will explain the format of the MAP Test 2nd grade, as well as how to help your child prepare for this academic assessment.
The exam will test pupils' 2nd grade MAP skills. As this test is taken by second graders, it is crucial that parents and carers understand why and when the test is taken to properly support the child.
Overview of the Three 2nd Grade MAP Test Sections
As previously stated, the three sections in the MAP test are:
Remember, schools do not have to administer all three sections; therefore, your child may take just one or two of these subtests.
It is important that you understand which sections your child will be tested on so you can aid their revision and test preparation.
MAP Reading for Grade 2
The reading sub-test is designed to assess your child's reading comprehension, vocabulary and writing skills.
It will test the child's ability to:
Understand a written passage
Extract the main ideas from the passage
Understand the meaning of words
Understand an idea of the characters, location and plot of the passage
Understand the writer's point of view
With a total of 43 questions, the test is not timed, but each section should take a maximum of 60 minutes to complete.
MAP Math for Grade 2
This test will assess the child's skills in the following topics:
Algebraic thinking – Doing simple sums to solve equations
Computation and problem-solving – Using math to figure out solutions to problems
Fractions – Identifying and comparing parts of a whole
Measurement and data – Using simple data to form conclusions
Geometry – Identifying and composing two-dimensional shapes
The test is adaptive, with up to 53 questions included. The test is untimed, but it should take about 60 minutes to complete.
The questions in the math section of the MAP testing second grade pupils are typically in a problem-solving format.
The pupil will be presented with a question and multiple-choice answers. This section will test pupils on the mathematical skills they have learned in the classroom.
MAP Language for Grade 2
This test covers the following topics that second graders will have learned in school:
Grammar – The use of nouns, verbs, adjectives and sentence structure
Mechanics – The use of punctuation, capitalization and correct spelling
Word usage – The use of concepts such as phrases and clauses, and sentence meaning
The writing process – Being able to plan, draft and edit written work
There are up to 53 questions in this untimed, adaptive test.
Students should be able to complete the test in about 60 minutes.
To help your child prepare for the assessment, you can create a revision plan that covers the above sections.
It is a good idea to provide your child with a MAP practice test 2nd grade paper so they can become familiar with the test content and layout.
NWEA Practice Test 2nd Grade Example Questions
In this section, we have provided some example MAP test 2 grade questions so you can understand what to expect from the MAP Test.
You can use these example questions with your child for 2nd grade MAP test practice free at no cost.
Reading MAP Test Grade 2 Example Questions
Example Question
1. Which of these choices uses all the words below to make a sentence?
Dogs the pictures of painted artist
a) The dog painted a picture of the artist
b) The artist painted pictures of dogs
c) The painter created a picture of a dog
Example Question
2. Which of these pictures supports this sentence?
'The dog enjoyed a long walk on the beach'
a) Picture of a dog
b) Picture of a seashell
c) Picture of a crab
d) Picture of a surfboard
Example Question
1. Joe bought 35 jellybeans from the candy store. His brother bought 55 jellybeans.
How many jellybeans do Joe and his brother have altogether?
a) 80
b) 90
c) 100
Example Question
2. How many faces does this cube have?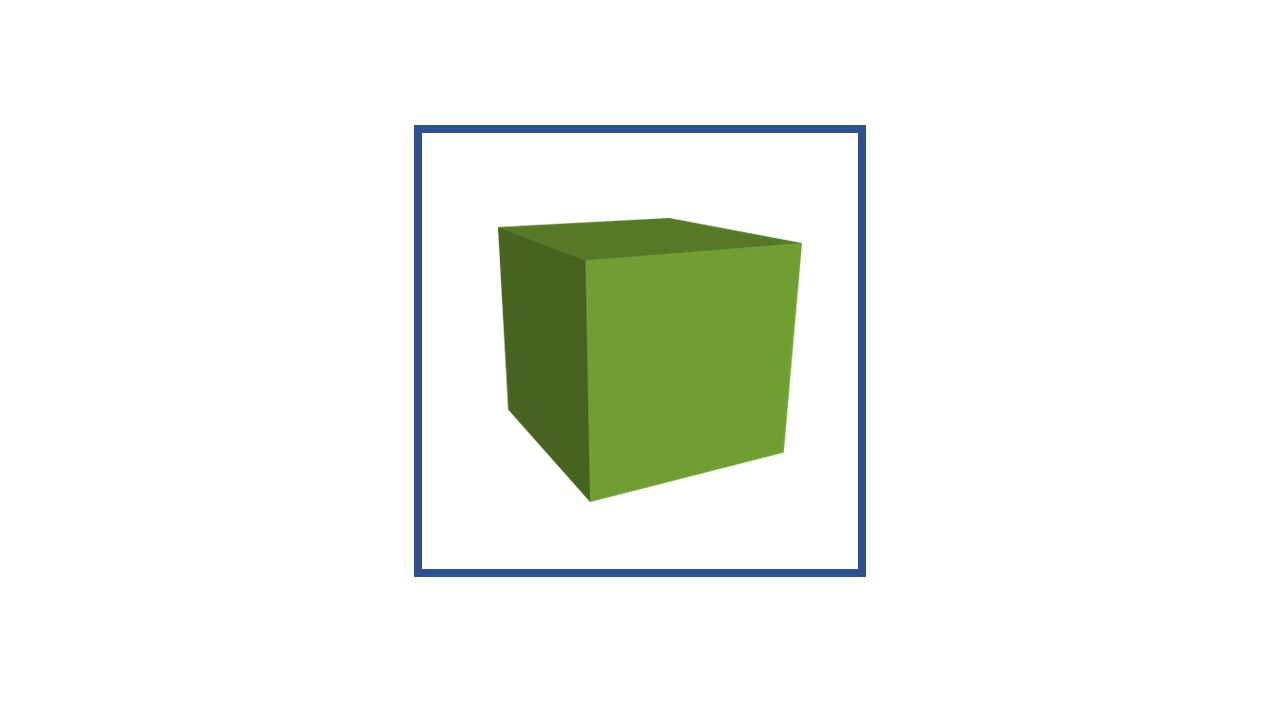 a) Four
b) Five
c) Six
Example Question
1. Choose the missing word in the below sentence:
'The van selling ice cream is over ________'
a) Their
b) There
c) They're
Example Question
2. What is the correct spelling for more than one baby?
a) Babys
b) Baby's
c) Babies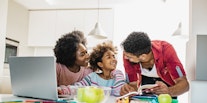 2nd grade MAP Test: Tips and Study Guide
If you want 12-month access to all the practice resources for this test, our partner TestPrep-Online.com offers a Family Membership.

Family Membership gives you access to all the TestPrep-Online resources for the next 12 months. You will also get two separate accounts, which can be very helpful if you have two children preparing for their tests.
How to Help Children Practice for the MAP Test 2nd Grade
The MAP Test 2nd Grade is one of the first tests your child will take at school. As they will only be aged seven or eight years old, they will need the support of a parent or guardian.
It is important that you understand how the test works so you can organize and prepare your child.
There are numerous websites online that can help parents and carers in preparation for the MAP Test 2nd Grade.
Here are some step-by-step tips:
Step 1. Practice Makes Progress
Doing plenty of reading, math and language practice can help your child achieve a good score on the MAP Test 2nd Grade.
You can get them to take practice papers, as this will have the added benefit of introducing the test layout to your child.
Practicing the test topics is important as it can help children identify areas of weakness to be improved on.
You should ensure your child has a space to revise that is free from distractions.
Step 2. Complete a MAP Test Practice 2nd Grade Paper Against the Clock
Replicating test conditions can help your child become familiar with taking assessments within a time limit.
This can help increase your child's confidence and also highlight any areas that require extra attention.
Step 3. Encourage Your Child to Revise the Test Topics
The content of the test will be suitable for the seven-year-olds taking it, and the participants are likely to have covered the majority of the questions in school.
You can help your child achieve a high score by revising the test topics with them.
Step 4. Prioritise Wellbeing
It is crucial that you ensure your child remains happy and in good health in the build-up to the assessment.
You can help them retain all they have learned by setting a bedtime routine and making sure they get plenty of sleep.
It is also important to ensure your child is eating a well-rounded diet that includes brain-boosting foods such as leafy greens and omega 3s.
Lastly, make sure your child is drinking enough water to keep them hydrated, as this will improve focus and concentration.
Step 5. Keep Stress at Bay
Taking tests can be a scary prospect, especially at such a young age. While you will naturally want your child to do well, you should do what you can to prevent them from feeling stressed.
You can help your child relax by reassuring them that they are capable and just need to try their best. You can even make revision fun with educational games and puzzles to take away some of the pressure.
Step 6. Read to Your Child
Reading to your child can teach them a wider vocabulary and even improve their cognitive skills.
You can encourage them to spell and sound out more complex words to expand their literary understanding.
Step 7. Encourage Them and Celebrate Their Progress
Assessments such as the MAP Test can be stressful for young children, as they need to learn and retain new information.
You should openly encourage your child as they understand THEIR parents' emotions and will feel comforted by your support.
Studying for and taking the MAP test is an achievement; therefore, you should praise your child for showing you are proud of their skills and abilities.
How the 2nd Grade MAP Is Scored
As well as providing a measurement for your second grader's teachers, the 2nd grade MAP test scores can also be helpful by allowing you to get an insight into how you can help your child in their learning.
After the test, pupils' scores will be calculated and interpreted as a percentile. A score in the 50th percentile is considered an average score as it is in the middle of the lowest and highest scores.
A score in the 90th percentile means that it is higher than 90% of scores in 2nd grade during that time of the year.
Frequently Asked Questions
The MAP Test 2nd grade is taken by pupils in the 2nd grade of primary education to assess their academic progress and capacity for learning at the next level.
The MAP test should not be too hard to pass as it will include questions on the topics that your child has studied in class.
You can make the MAP test easier to prepare for and pass by using the tips we have provided in this guide.
This guide has provided tips and guidance on how to prepare your child for the 2nd grade MAP test.
A good MAP test score for 2nd grade would be a score above the 50th percentile. This means it is an above-average score.
The 2nd grade MAP test is not a pass/fail assessment. It is purely used to evaluate the development of your child, so it is not possible to fail.
If your child achieves a low score, their teachers will be able to form a plan to support them in their academic journey.
As the 2nd grade MAP test is taken three times a year, it is possible to improve between each assessment.
If the first and second test scores have room for improvement, you can work with your child to build their knowledge and confidence.
The purpose of the 2nd grade MAP test is to evaluate the development of 2nd grade children. It is used to assess the level that pupils are learning at.
We have provided a selection of sample questions for each MAP test section in this guide.
The organization that administers the MAP test, NWEA, does not encourage retesting except in exceptional circumstances. You should check with your child's school to find out the capacity for retesting.
There are typically up to 150 questions on the 2nd grade MAP test.
There are 43 questions in the Reading section and 53 in both the language and math sections.
The MAP test for 2nd grade is not an IQ test. It is an aptitude test that assesses a child's cognitive abilities rather than intelligence.
This article offers a complete guide to the 2nd grade MAP test.
Final Thoughts
The MAP test (2nd grade) is a test that is used to assess a student's ability to learn.
It can be used to measure progress throughout the year to track the development of second graders.
Practice is one of the key aspects to ensure that the student performs well on the test; therefore, you should make practice a priority to help your child feel prepared.
---