A Guide to the Microsoft Excel Test 2023: Preparation, Practice & Example Test Questions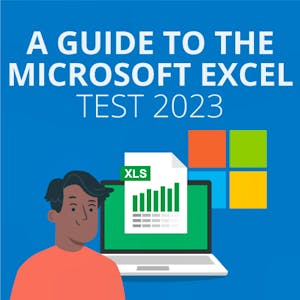 Microsoft is one of the world's most commonly used computer software.
If you're working in an office, you are almost certain to use applications such as Microsoft Word, Excel, Outlook or PowerPoint.
Therefore, it makes perfect sense that employers want to know that you are proficient in these applications as part of their hiring process.
If your job requires data analysis or compiling data streams, you will likely need to be adept at using Microsoft Excel.
In these circumstances, you may be asked to participate in an Excel assessment test so a hiring manager can confirm that you know how to make the most out of the program.
With this in mind, we will look at what you could expect from a Microsoft Excel test.
Then, we'll take you through a series of Microsoft Excel practice test questions, and we'll give you everything you need to know so you can prepare for the Excel assessment.
What Is the Microsoft Excel Test?
Microsoft Excel is an incredibly powerful piece of software. It can help you to visualize and analyze data using a range of formulas and functions.
When configured correctly, your Excel spreadsheet should allow you to make calculations automatically and categorize and export data quickly and easily.
However, too many people only use the fundamental elements of Microsoft Excel.
They may know how to use columns and rows to create tables, but they may not make the most of its capabilities.
This is where the Microsoft Excel Assessment comes in handy.
A Microsoft Excel test is specifically created to assess a candidate's familiarity with the program.
Within the recruitment process, hiring managers can use the Excel test to see how well a potential recruit can cope with the tasks related to the job they are applying for.
As a result, they can identify any strengths and weaknesses and have greater insight into whether that candidate is the right person for the job.
Microsoft Excel Assessments can be conducted in different ways.
Some companies may choose an informal Microsoft Excel test, where they create an assessment independently.
For example, they may devise tasks or activities based on their usual work patterns and ask a candidate to manage these during an interview.
They may score the test in-house or use how the person works as an informal indication of what they can do.
Other companies may choose to invest in the more formal Microsoft Excel test.
There are three levels:
Basic
Intermediate
Advanced
These assessments are conducted by a third party and incorporate standardized scoring, allowing recruiters to compare and contrast candidates directly.
Most Microsoft Excel tests take place in two different formats:
Multiple-choice – The questions will focus on different areas of the software. Therefore, candidates need to be confident that they know how to use Microsoft Excel efficiently.
Simulation – Candidates will complete the tasks using a simulated version of Excel, which will monitor how the user behaves, giving scores based on timing, precision and accuracy.
Understanding the Three Levels of the Microsoft Excel Assessment
If you are invited to participate in an Excel skills test, you should be clear on which test the recruiter is referring to.
The level of difficulty will depend on the type of job role that you are applying for.
If you are applying for an entry-level position, such as an administrative or sales position, you will likely only need to participate in a basic Excel test.
If you're applying for a more senior role (such as a project manager or auditor), you will likely be invited to participate in an intermediate Excel test.
The advanced Excel test is often used for those needing to comprehend vast quantities of data, such as financial analysts or scientists.
Let's take a closer look at each type of test to see how they differ.
The Basic Excel Tests
The basic Excel test is commonly used for those who only need beginner-level Excel knowledge.
It's about knowing whether the candidate understands how to do basic formulas and can make the most out of the tools within the Home, Page Layout and View tabs of the ribbon bar.
In a basic Excel test, you might be asked to demonstrate your expertise based on the following tasks:
Accessing a recently closed worksheet or saving a file in various formats
Showing that you can format cells and demonstrate how to use techniques such as cell alignment, text wrapping or number and currency formatting
Creating simple charts using data input into your spreadsheet
Ability to use basic Excel functions such as SUM, COUNT and AVERAGE
How to format cells to avoid duplication and minimize errors
The Intermediate Excel Tests
Within the intermediate Excel tests, the questions begin to become more comprehensive.
For example, candidates may be asked to participate in an Excel skills test to show that they understand the difference between functions and formulas and know how to manipulate the raw data to create basic data analysis.
As data analytics becomes more mainstream within a wide range of sectors and job roles, it is likely to become increasingly common for employers to use Excel tests for job interviews.
As a result, recruiters will want clearer insights into a potential candidate's ability to manage daily job tasks.
In an intermediate Excel test, you could expect questions along the following lines:
Identifying relative and absolute references
Using conditional formatting to distinguish data
Using functions such as VLOOKUP, COUNTIF and SUMIF
Filtering information to find specific data sets
Creating graphs, charts and bars to represent the data visually
The Advanced Excel Tests
At an advanced level, the Microsoft Excel tests go beyond what an average user is expected to be able to do.
Therefore, the advanced Excel tests will only be used within a recruitment campaign for job roles where Excel is used beyond the typical capabilities – for example, data analysts, forensic experts and financial analysts.
Advanced-level Excel users will need to be able to demonstrate their proficiency in areas such as:
Data manipulation and validation
Advanced conditional formatting
Extrapolating data through the use of pivot tables and other visual representations
Creating macros to automate particular tasks
Microsoft Excel Practice Test Exercises
If you have been invited to participate in a Microsoft Excel test for employment, it's worthwhile spending time researching the array of Microsoft Excel certification practice tests available online.
A sample online Excel test will not only help you to identify what you could be asked within your assessment, but will also give you a chance to familiarize yourself with the test question styles and any potential timings.
On test day, the assessors will judge your score based on speed, accuracy and precision.
Therefore, the more familiar you are with the elements likely to appear within your Excel certification test, the higher your chances are of generating a better score.
To help you prepare, here are some sample Excel test questions that may help set your expectations.
We've split them between the interactive/simulated style of tests and the multiple-choice questions to help you identify the differences.
Excel Practice Test Exercises – Simulated Exams
Using the data below, input the table into an Excel spreadsheet before completing the following tasks.
Have a go at these using your own version of Excel.
| Hours | No. of sales | Stock bought | Revenue |
| --- | --- | --- | --- |
| 10.00–13.00 | 90 | 110 pieces | $320 |
| 13.00–15.00 | 120 | 320 pieces | $1,900 |
| 15.00–17.00 | 210 | 600 pieces | $3,800 |
| 17.00–20.00 | 80 | 120 pieces | $320 |
Basic Excel Test Practice Questions
Please create a basic SUM formula for the total number of transactions in the table above.
Insert a new column between No. of Sales and Stock Bought.
Align the header row to be central and the text formatted in Bold.
Intermediate Excel Test Practice Questions
Please apply conditional formatting that highlights all cells with transactions above 100.
What is the total number of daily transactions, and calculate the average in a three-hour period?
Advanced Excel Test Practice Questions
Identify the average pieces of stock purchased per customer for specific time windows.
Assume that this data represents a typical day. Create a pivot table to create a visual representation of sales over a week/month/year.
As you can see from these Excel practice test exercises, the questions may be based on the same raw data, but they become progressively harder as you move from basic to intermediate to advanced.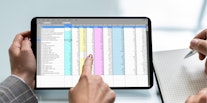 Microsoft Excel Test: Preparation, Practice & Example Test Questions
Example Question
What sign needs to be included in each cell as part of a formula?
a) =
b) &
c) #
d) >
Example Question
What action do you need to take to highlight all cells in your workbook?
a) Click on the row number on the left-hand side of the screen
b) Click on column A and press the tab key
c) Press Ctrl + A
d) Click on column A, hold the Ctrl key and select Row 1
Example Question
What is the purpose of conditional formatting?
a) Format all cells based on font type
b) Format all cells based on the text size
c) Format one or more cells according to predetermined criteria
d) Format one or more cells to a default format
Example Question
What function is NOT found on the formula tab of the ribbon bar?
a) AutoSum
b) Trace Precedents
c) Look up and reference
d) Text to columns
If you need to prepare for a number of different employment tests and want to outsmart the competition, choose a Premium Membership from JobTestPrep.

You will get access to three PrepPacks of your choice, from a database that covers all the major test providers and employers and tailored profession packs.
Practical Tips to Help You Practice the Microsoft Excel Test
If you are invited to take part in a Microsoft Excel assessment, you may feel nervous.
After all, much of what we do day to day is through instinct and natural working habits.
But there are some ways that you can prepare ahead of your Microsoft Excel test.
Step 1. Understand the Type of Test You Will Be Taking
Don't be afraid to ask your potential employer to confirm what type of Microsoft Excel test they will be asking you to complete.
Simulation tests are very different from multiple-choice exams, and knowing which kind of test you need to take could impact your preparation.
You could also ask the recruiter if the exam will be an independent assessment or conducted by a third party.
If it's an external exam adjudicator, you could research the test provider to allow you to familiarize yourself with the style of test.
Common Microsoft Excel test providers include SHL and Kenexa.
Step 2. Find Sample Excel Tests Online
Once you know the type of test you will take, don't be afraid to look for both paid-for and free Excel test samples online.
Various online resources will allow you to prepare for and practice these tests through learning tools and other resources.
For example, sites such as JobTestPrep offer weekly, monthly or quarterly packages that will give you all the resources you need to study for your exam.
Unlike psychometric and personality tests, a Microsoft Excel test is based on right or wrong answers. Therefore, you need to be confident that you know your stuff because it's almost impossible to talk your way through the assessment when taking an Excel test for job interview purposes.
Step 3. Refresh Your Knowledge of Key Excel Skills
At the core of all your preparation should be practice and knowledge relating to Excel's role in the workplace. You need to be confident that you know how to use the software and have the fundamentals in place.
We recommend that you pay close attention to the job description for the role you are applying to – are you confident you know how and when MS Excel will be used within your core tasks? If so, can you check that you can use it effectively?
Brush up on your knowledge of common formulas and rules. It will help you with the speed and accuracy part of the assessment.
Step 4. Memorize Any Notable Keyboard Shortcuts
If you are a PC user, you can use keyboard shortcuts to help speed up the process. Several common shortcuts are unique to Excel – make sure you know what they are. They are likely to come up in a multiple-choice test.
Step 5. Focus On Speed and Accuracy
External MS Excel tests will generate a score based on speed and accuracy.
Even if the test isn't timed, you will be judged on how long it takes you to complete your answers.
Therefore, you must focus on speed, accuracy and precision as part of your preparation.
The quicker and more confidently you use the software, the higher your chances of success.
The Microsoft Excel test is a short exam that checks to see how proficient you are in using Excel spreadsheets. It's commonly used in the recruitment process to enable recruiters to identify your skill levels.
The MS Excel test has three levels: basic, intermediate and advanced. Your Microsoft Excel test will depend on the job you are applying for. Therefore, the test should be relevant to your level of knowledge.
The easiest way to prepare for the Microsoft Excel test is to incorporate Excel into as many day-to-day activities as possible. That way, you can familiarize yourself with its quirks and understand how to make the most of the software.
Beyond general use, you can practice Microsoft Excel tests online, allowing you to see the types of questions you could be asked.
A good place to start is a free Excel test for interview candidates to determine current strengths and weaknesses.
Completing free Excel test questions will help you understand the test formats and allow you to practice your speed and accuracy.
Similarly, paid-for preparation packs from sites such as JobTestPrep will give you all the tools you need to succeed.
This depends on the type of Excel test you are taking, whether it is a formal or informal assessment. If it is a formal assessment, different test providers have different time requirements.
For example, an SHL interactive test allows 35 minutes, while the SHL Interactive (Essentials) provides just 25 minutes, and the SHL Adaptive test offers up to 90 minutes.
Kenexa Prove It Excel assessments have no time limit, but scores will depend on how fast and accurate you are.
This depends on which level you are taking.
For example, basic Excel tests will focus on key formatting issues and common formulas (adding and subtraction).
In contrast, intermediate and advanced Excel tests will focus more on your ability to extract data and use more complex functions.
The basic skills you need to know when using Excel include opening and closing worksheets, managing and formatting cells and performing basic calculations using predetermined formulas.
Excel users should know the core formulas: SUM, TEXT, VLOOKUP, AVERAGE and CONCAT.
There is no universal predetermined pass score for the Microsoft Excel test, as different employers will have different benchmarks depending on whether you are taking a simulated test or a multiple-choice exam.
Your score will depend on accuracy, speed and precision. You want to try to achieve at least 70% correct answers on your test, but how fast you complete the test will also impact your final score on the Excel certification exam.
The Microsoft Excel website is a useful resource to help you understand how to make the most of Excel. But if you are asked to take a Microsoft Excel test for interview purposes, you may need to look at the individual test provider to find out what to expect and how to prepare.
Sites such as JobTestPrep offer comprehensive guides to help you prepare – as well as study aids, you can benefit from sample practice test questions.
Final Thoughts
As recruitment becomes more complex, it is clear that employers will be using testing to filter through candidates and identify their capabilities before making their final hiring decisions.
The Microsoft Excel test, whether formal or informal, will likely play an increasingly important role in many job interview situations.
Hiring managers need to be confident that their new hires can hit the ground running and have competent ICT skills.
Unfortunately, too many candidates oversell their skills on their resumes, so it's essential that you can demonstrate your proficiencies before you are hired.
The Microsoft Excel assessment isn't designed to trip anyone up. The three levels mean that your test will depend on the job you are applying for.
If you're used to working in comparable roles, the test should reflect your existing skills.
If you are asked to participate in a Microsoft Excel assessment, you should always brush up on your knowledge of the fundamentals of the software, from basic formulas to keyboard shortcuts.
You can gain beneficial practice through both paid-for and free online Excel test resources.
The more confident you are in using the software, the higher your chances of success will be.
---