A Guide to the Saville Wave Personality Test: with Tips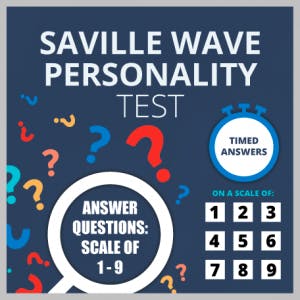 What Is the Saville Wave Test?
The Saville Wave test is a personality questionnaire that comes in different versions to suit all sorts of job roles and levels of seniority.
Created by Saville Assessment, the Wave tests are designed to be the 'best-in-class predictor of workplace performance and potential'.
They blend digital innovation and science to cover aspects of competency, potential, motivation, talent and preferred company culture in one short assessment.
The Wave tests are usually used in recruitment and selection, but they are also used for talent management and succession planning.
There are two main types of Wave tests used in recruitment:
The Wave Focus Styles
The Wave Professional Styles
Wave Focus Styles
Aimed at candidates on an operational or general employee level, this test takes about 13 minutes to complete and there are 36 questions.
Wave Professional Styles
This is a slightly longer version of the Wave personality test, with 108 descriptions and it usually takes 35 to 40 minutes to complete.
Other versions of the Wave test are aimed at different levels of candidate, including internal hiring as well as training and development planning, such as the Wave Work Strengths questionnaire.
Saville Wave Test Structure
The basic structure of the Wave test is the same; the only thing that tends to differ is the number of questions.
The Wave test takes place on the Saville Assessment testing platform called OASys, and it is taken online and in the candidate's own time.
The candidate is presented with several statements and they need to rate them on a scale of one to nine depending on how relevant they are to the candidate. This is a self-reporting assessment and the candidate needs to honestly rate each statement according to how well they feel it describes who they are at work.
The way the candidate rates each statement will alter the following statements, ensuring that the most accurate information is collected by the questionnaire to create useful reports for the recruitment team.
This type of testing is known as ipsative and is one of the main reasons that the test can gather so much data in such a short amount of time.
What Is Assessed by the Saville Wave Assessment Test?
The Wave personality tests are designed to help recruiters make better decisions in hiring, and according to the Saville Assessment website, using Wave tests reduces the chances of a bad hire from one in five to one in 50.
It does this by focusing on 12 personality areas that are scientifically recognised as being important when it comes to culture fit and personality traits in a candidate.
The personality areas that are tested include:
Evaluative
Investigative
Imaginative
Sociable
Impactful
Assertive
Resilient
Flexible
Supportive
Conscientious
Structured
Driven
The statements used in the assessments might not be obviously related to one of these areas, but they are used to form nuanced and detailed reports that can tell a recruiter how well each candidate matches the personality, talent and learnability traits that are needed for success in the future.
The candidate will have to rate the statements from one to nine, where one is 'strongly disagree' and nine is 'strongly agree'.
The number of statements that you are presented with will depend on the type of Saville Wave test that you are taking, but the test is untimed so you can take some time to answer each question.
Try not to overthink though, as you want the answers to be honest and a true representation of your behaviour at work as well as your personality traits.
Examples of the Saville Assessment Test
Rate the below statements from one (strongly disagree) to nine (strongly agree).
I enjoy being the centre of attention
This type of question is assessing you on how much of an extrovert you are, and whether you are good at leading.
I prefer to work on my own
This can be a good trait for a role that requires little interaction with other team members.
I often like taking a different route to work
Being open to change means that you are adaptable, but it could also mean that you get bored easily and wouldn't be suitable for a role that is predictable and rigorous.
I do not like to ask for help
People who do not like to ask for help might be stubborn, but they also might have good ideas that might be innovative ways of dealing with a problem.
I have a wide circle of friends
People who work well in a team setting are often gregarious and well-liked, so having a wide circle of friends might indicate that you are likely to be good as part of a team.
Each of these questions might seem to relate to a specific trait or personality area that is being assessed, but the results that are shared with the recruiter are specific to the role that you have applied for, and the way you have answered – how strongly you think the statement describes you – will be linked to the other answers you have given.
Saville Wave Versus Saville Assessment
The Saville Wave test is just one type of assessment created by Saville Assessment, and you will often find that you will be asked to complete some other tests as part of the recruitment process, depending on the role you have applied for.
Saville Aptitude Tests
The Saville Swift Aptitude Tests are short, online assessments designed to test several aptitudes in a short amount of time. There are different tests available for different types and levels of role.
There are also single aptitude assessments that can be used when a specific skill or aptitude needs careful consideration in recruiting for a role.
Saville also produces situational judgement tests that are based on realistic workplace scenarios, relevant to the role that has been applied for, giving applicants a chance to demonstrate how they would solve problems in a job in retail, customer service or logistics.
How to Prepare for the Saville Wave Assessment
The Saville Wave assessment is not necessarily a difficult test, and it isn't that challenging to prepare for – but there are a few things that you can do to help you perform at your best.
Step 1. Check the Core Values of the Recruiter
As the Wave tests are about your personality traits and how they relate to the role you have applied for, knowing more about the role and the company will help.
Look for the core values of the business, and what it is looking for from its employees. These values might include innovation or customer focus, and they can usually be found on the company website. You will also want to pay close attention to any personality traits mentioned in the job description.
The test will be looking for candidates who align with the company values and will improve company culture, along with having the necessary competency and ability.
Step 2. Practise Personality Tests
In a personality test, you need to be self-aware enough to rate the statements (honestly) about you and the way you behave at work.
This can be challenging, but the best way to prepare is to practise on different types of tests – and you can find some excellent resources online.
Look for specific Saville Wave practice tests for a more authentic experience, so you know you are dealing with the same structure and layout of assessment as you will be when you complete the real thing.
Step 3. Get Plenty of Rest, Eat Well, Stay Hydrated
Testing can be nerve-racking, especially when your perfect job hinges on the results of the test – and you want to be able to perform at your best when you sit down and start.
To give yourself the best chance, make sure you fuel your body and mind appropriately in the run-up to the assessment and especially on the day. Make sure that you have had a good night's sleep, eat a healthy meal and stay hydrated so your brain can work at maximum capacity.
Step 4. Prepare to Take the Test at the Optimum Time
Not everyone is at their best throughout the day. Some people are more active and awake first thing in the morning, whereas others might work more efficiently later in the day or even in the evening.
Whenever you are more awake and ready is the time when you should take the test. When you can choose, such as with most pre-employment testing that is taken online, you have the power to take the Saville Wave test exactly when you want to, and when you know you are in the right frame of mind for success.
Saville Wave tests are not difficult in content or structure, you just need to be able to think about your work behaviour and personality traits to decide how well each statement describes you.
They are not timed tests and this makes it easier for you to think about each statement properly before answering.
On the Saville Wave Focus Styles test, there are 72 statements, and the test takes about 13 minutes.
In the Saville Wave Professional Styles test, there are 216 questions, and the assessment lasts 35 to 40 minutes.
Saville Wave tests are not timed. The Saville Wave Professional Styles test takes about 40 minutes, while the Saville Wave Focus Styles test takes around 13 minutes.
Other Saville Wave tests vary from six and a half minutes through to 20 minutes.
JobTestPrep is a great resource for sample questions, and you will also find in-depth information about what to expect on the test as well as full practice tests so you can get a real feel for what is to come.
Saville Assessment also has more questions and examples in its Candidate Area.
As a personality test, the Saville Wave tests are not necessarily a pass/fail assessment, but your answers will be compared to an 'ideal candidate' rubric and used to determine whether you have the right personality traits that suit the needs of the role.
If your traits and work behaviour don't match what the recruitment team is looking for, then your application will not be taken further for the role.
The answers you give in the Saville Wave tests are used to create a detailed report that the recruitment team will use to determine whether you are a suitable candidate for the role. This includes information like:
Aspects of your personality
Leadership potential
How you work in a team
Culture compatibility
You will usually not be able to retake the Saville Wave tests during an application process; if you do not have the required traits then your application will be terminated.
However, in some cases, you might be allowed to reapply for the role later, and this would allow you to retake the Saville Wave test.
There is some information for candidates available in the Saville Assessment Candidate Area, but for an in-depth and detailed guide on what to expect, how to perform well and other tips and tricks, the resources at JobTestPrep are particularly useful.
Usually, after you have completed the Saville Wave tests as part of the recruitment process for a job, the next step is to attend an interview. The interview questions can be based on the report generated by the Saville Wave tests.
Final Thoughts
The Saville Wave tests are designed to assess each candidate on their personality traits, work behavior and how they will fit into the company culture.
Each business that uses the Saville Wave tests will be looking for different answers because it will want diverse types of people to fill the available roles – and this means that the answers that might get you an interview at one company won't necessarily be the right answers at another company.
When you are preparing for a Saville Wave assessment, you need to focus on what the employer is looking for in its candidates – the core values of the business and the specific traits, skills and competencies that are listed in the job description.
You want to be prepared for the test, but also to demonstrate that you will be a good fit for the brand culture and the needs of the role too.
---