How to Pass the Thomas GIA Test
Updated September 1, 2023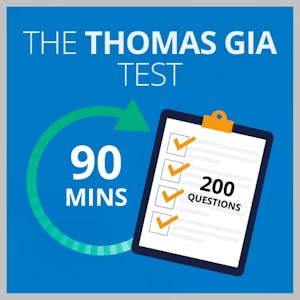 There are a variety of tests and assessments that can be used by companies for candidates applying for jobs.
One of those is the Thomas GIA Test.
This article will define what the Thomas GIA Test is and who it is for, in addition to looking at what the test involves, how it is scored and tips for the next chance to pass the test.
You will also find Thomas GIA test examples and explanations for each answer.
What Is the Thomas GIA Test?
Although commonly called the Thomas GIA Test, the full name of this assessment is the Thomas International General Intelligence Assessment (GIA).
There are two additional Thomas International psychometric tests:
The Thomas International Personality test
The Thomas International PPA test
The main objective of the Thomas GIA test is to measure a person's 'fluid intelligence', which is their ability to learn quickly, understand that information and solve problems quickly.
The online assessment contains 200 questions that need to be answered within 20 minutes. There is an additional 20 minutes for you to read questions and examples, which helps and can calm the situation.
You are not expected to answer every single question in the Thomas psychometric test.
Although first created for the Armed Forces to look at intellect and how best to train recruits, it has now been adopted by many employers to assess how they can challenge and further develop a current employee.
If you are applying for a job or trying to get promoted, it is possible you will have to do the Thomas International GIA assessment.
What Is Included in the Thomas GIA Assessment?
The test is split into five categories, each assessing different areas and abilities.
Below you will find an outline of each category, along with Thomas International practice test questions.
Reasoning
This part of the test looks at your short-term memory and how you handle making quick and accurate decisions.
The questions in this part of the test will describe a relationship between two objects, people or similar.
An average of five seconds is given to answer the question.
Example Question
Daniel is 14 and Clare is two years' younger. How old is Clare?
a) 12
b) 13
c) 16
d) 11
Example Question
How many pairs are there in the boxes below?
a) One
b) Two
c) Four
d) Five
Number Speed and Accuracy
As the title suggests, this section assesses your ability to work on simple numerical tasks and quantitative data quickly and accurately.
This section will give three numbers, and the key is to identify the highest and lowest number and work out their difference from the average number.
Example Question
Which number is furthest from the average?
30, 10, 15
a) 30
b) 10
c) 15
Example Question
Which of these words is the odd one out?
Boat, Train, Book
a) Boat
b) Train
c) Book
Example Question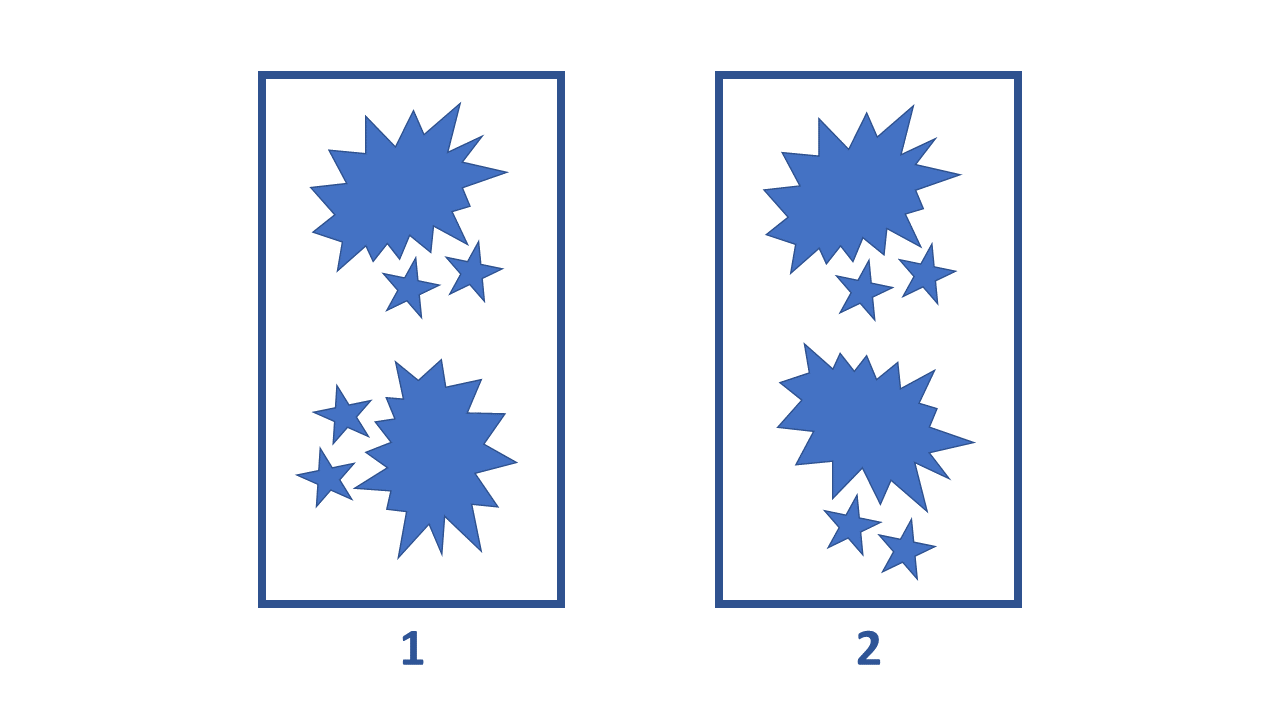 a) 1
b) 2
c) none
How Is the Thomas GIA Scored?
There are a few key points to know about the scoring of the Thomas GIA test.
Each section is scored separately, with a final percentage score of the whole test given at the end, which is your final score.
The percentages are based on previous people's scores; for example, if you scored 50%, you have scored 50% higher than the others who have taken the test.
It is important to be accurate as well as try and be speedy, because incorrect answers will see you lose points.
Every correct answer on every section correlates to one point but minus points vary between the topics:
Reasoning: Minus 1 point per incorrect answer
Perceptual Speed: Minus 0.25 points per incorrect answer
Number Speed and Accuracy: Minus 0.5 points per incorrect answer
Spatial Visualisation: Minus 0.5 points per incorrect answer
Word Meaning: Minus 0.5 points per incorrect answer
Thomas GIA Score Breakdown
A low score is considered 4 to 15 percentile, and above 86 percentile is considered high.
An average score is considered 35 to 65%, so aiming for anything above 35 percentile is a good place to start.
How to Pass the Thomas International Test
How do you get those average and above scores? There are a few tips that will maximize your chances of passing and gaining a decent percentile.
Step 1. Take Paid For or Free Thomas GIA Practice Tests
There are lots of opportunities to take paid for or free Thomas GIA practice test online, including from JobTestPrep.
Finding paid for or free Thomas GIA test examples and getting as much practice in as possible will ensure you are well-honed in the speed and type of questions you will be asked. Practice does make perfect.
As part of this, practice harder on areas that you find more of a challenge to ensure you do not get too many minus points.
Step 2. Read Each Question Carefully
Take the extra 20 minutes reading time to check you have read and understood all questions, as that will be key to understanding and executing the answers correctly.
Step 3. Know Each Section
Know what is to come in each section and also work harder on sections where there are more minus points at stake. This is where reviewing lots of free Thomas GIA test examples will come in handy.
When reading online, or looking at signs, try to spot errors, patterns and anomalies that will help you in the test.
To pass the Thomas GIA assessment, you should use free online practice tests.
These give an indication of what types of questions you will have, in addition to letting you practice against the clock.
Revise and know what each section of the Thomas GIA test is and you will be prepared. When you are in the assessment, ensure that you read the questions carefully.
The test results are given as one percentage, which is based on how you do in the test compared to others.
For example, if your results say 75%, that means you have scored higher than 75% of the others who have taken the test.
Each section is marked separately, and minus points are given in each topic for incorrect answers.
You can test answers to Thomas GIA assessments in practice test papers online.
Websites will give example questions and answers for each section in the assessment to help you prepare for the test.
The Thomas General Intelligence Assessment (Thomas GIA) is designed to measure a person's general cognitive ability or intelligence.
Whether the assessment is considered "hard" or "easy" can vary from person to person depending on their individual cognitive abilities, preparation and familiarity with the types of questions presented.
The total test duration can vary, but it often falls within the range of 20 to 45 minutes.
Whether or not you can take the Thomas General Intelligence Assessment (Thomas GIA) more than once depends on the policies and requirements of the organization or employer that is administering the test.
Final Thoughts
The Thomas GIA test can seem like a very daunting challenge, due to the intensity and speed of it.
However, with the right amount of preparation and practice, along with reviewing Thomas International GIA test examples, you can work out early the areas you need to study harder on. Meaning, by the time the test rolls around, you will ace it.
---