A Guide to the Deloitte Immersive Online Assessment: Examples & Tips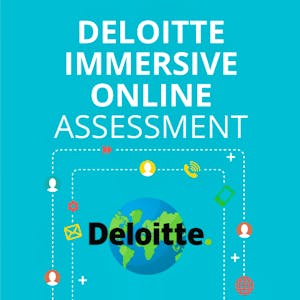 The Deloitte immersive online assessment is a psychometric aptitude-style test. It is used to identify a candidate's strengths and weaknesses.
Questions vary but are likely to include situational judgment style questions that link to the roles at Deloitte.
Candidates are also tested on their numerical reasoning and presented with personality questions.
What Is the Deloitte Immersive Online Assessment?
The Deloitte Immersive Online Assessment is an aptitude-style test for the global consulting firm Deloitte.
It is the second stage of the recruitment process following a successful online application.
The test presents scenarios you are likely to expect during a typical workday as an analyst.
It is used to assess candidates for graduate, internship and other roles in the finance and accounting industry.
The overall theme of the test is focused on technology, the digital world and innovation.
There are 35 questions across five sections. These are a mixture of verbal reasoning, numerical reasoning and situational judgment questions.
To create the immersive test experience, candidates are presented with written texts and audio and video sources.
For example, these might include recorded voice messages or emails. You need to analyze a range of sources to identify the correct response.
The test isn't timed, but most candidates complete the assessment within 60 to 75 minutes.
This article covers the following:
What to expect in the Deloitte online assessment
The types of questions included in the test
Some examples of similar questions
Tips to help you prepare
What to expect after taking the assessment
Competition for a role in Deloitte is fierce. As one of the big four management consultancy firms, the assessment process is tough.
The majority of candidates fail to pass this stage of the assessment process.
To improve your chance of success and reach the interview stage, adequate preparation and practice are required.
What's Included in the Deloitte Online Test?
The Deloitte Immersive Online test covers three question types:
Cognitive – including numerical and verbal reasoning
Situational judgment
Personality
The assessment has five different sections. These are accessed from the interactive homepage when you begin your test.
1. Life At Deloitte
This is a video section that introduces the company and working environment. There are no questions to answer in this part of the test.
However, it gives you tips about what kind of answers Deloitte is looking for in the following assessment sections.
2. What Makes You Succeed
This section includes eight scenario-based questions that test your situational judgment skills.
Some questions ask you to rank your responses from the most to least likely. For other questions, you drag a slider to show the extent to which you agree with a statement.
3. Getting Started at Deloitte
There are nine questions to answer that relate to a hypothetical project.
These assess your likely response to any issues you might encounter.
4. The Future of Work
This section provides written and numerical sources to interpret.
There are eight situational judgment and numerical reasoning questions.
5. The Rise of Automaton
There are ten numerical reasoning and situational judgment style questions linked to the impact of technological advancement.
The Deloitte aptitude test questions are designed to discover whether you are the right fit for the company.
Some examples of the Deloitte online test questions you might expect are provided below.
Example Questions for the Deloitte Immersive Online Assessment
Section 1 – Life at Deloitte
This section does not have any questions to answer. You will be shown videos and information about life at Deloitte.
Make some mental notes about the working environment and what Deloitte values. Consider what type of personality or skills the company is looking for.
Use this information to help you answer the questions in each section.
Situational Judgement Style Questions
Example Question
1. You have been asked to move to a different project with a team working on a more complex project than you've encountered before. The project manager clearly outlines expectations and tasks associated with your role.
However, one of your new colleagues gives you additional work that is not covered in your initial brief.
How do you respond?
Rank your answers from the most to least likely.
a) Happily take on the extra work knowing that it is important to support my new team.
b) Discuss the issue with the project manager, so I am clear on my role in the team.
c) Tell my new colleague that any additional work is not my responsibility and refuse.
d) Feel proud that I have been given extra responsibility and work overtime to get it done.
e) Find out how the additional work relates to my role before deciding whether to take it on.
Example Question
2. You notice that you've made a slight mistake in your recent data analysis but don't think it will impact the outcome of the project you are working on. Your team leader is very busy and might not want to be bothered by something that could be insignificant. What course of action do you take?
In the real test, you will be asked to drag the slider to show to what extent you agree with the responses presented.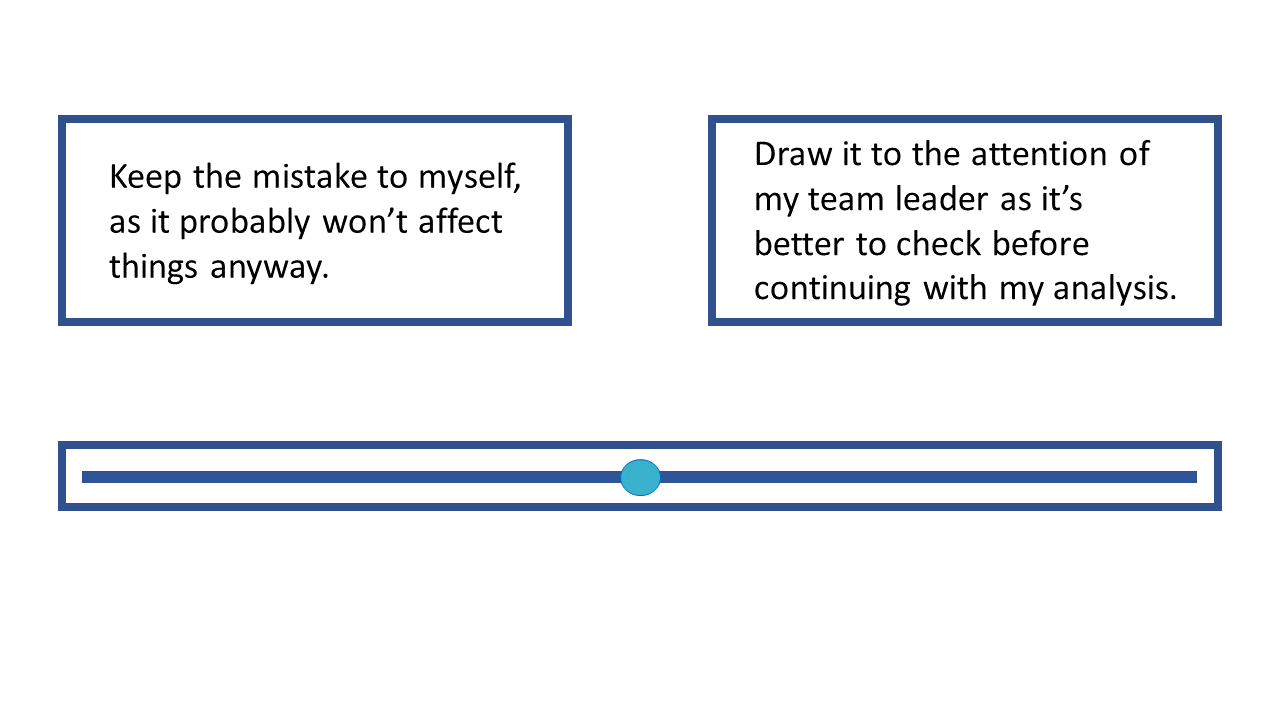 Example Question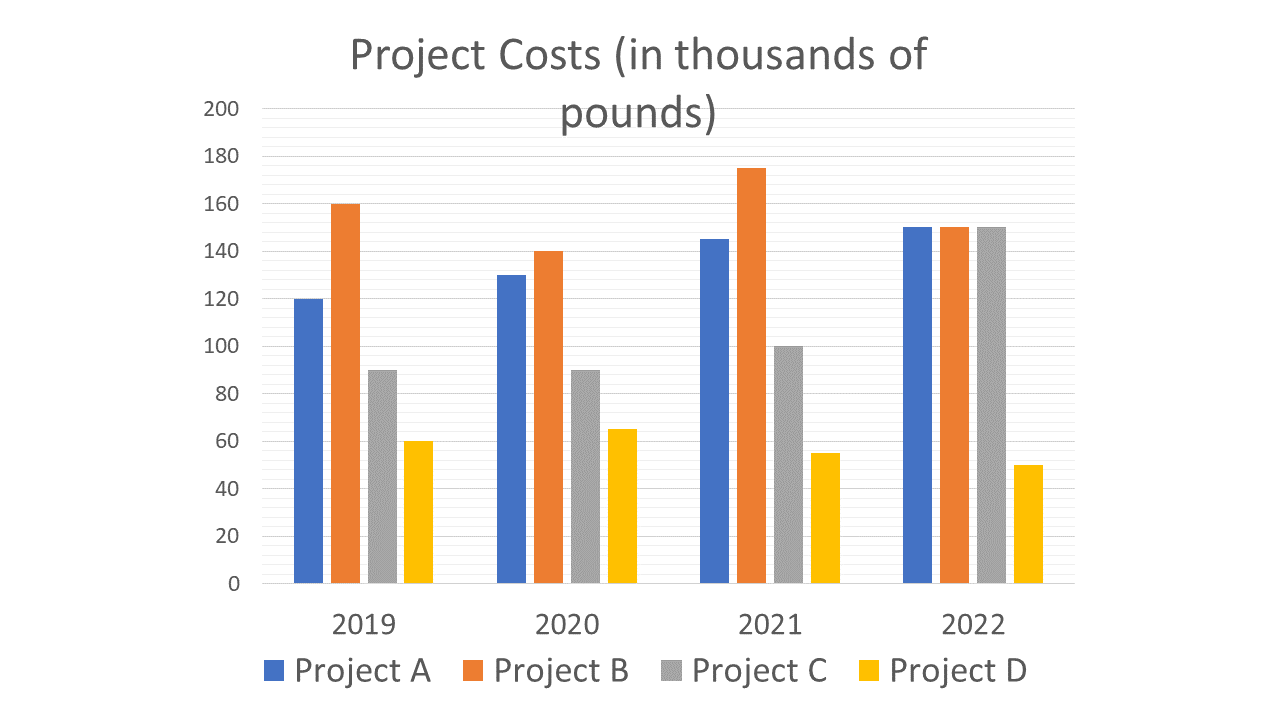 1. Which project cost has increased every year between 2019 and 2022?
a) Project A
b) Project B
c) Project C
d) Project D
Example Question
2.
| | | | |
| --- | --- | --- | --- |
| | Company X | Company Y | Company Z |
| Sales | 11,287 | 9.602 | 17,322 |
| Cost per share | 0.438 | 0.29 | 0.78 |
If 1,000 shares of company X were sold, how many shares of the highest selling company could be purchased to the nearest 10?
a) 780
b) 550
c) 1,480
d) 500
Example Question
1. Select a number to represent your preference.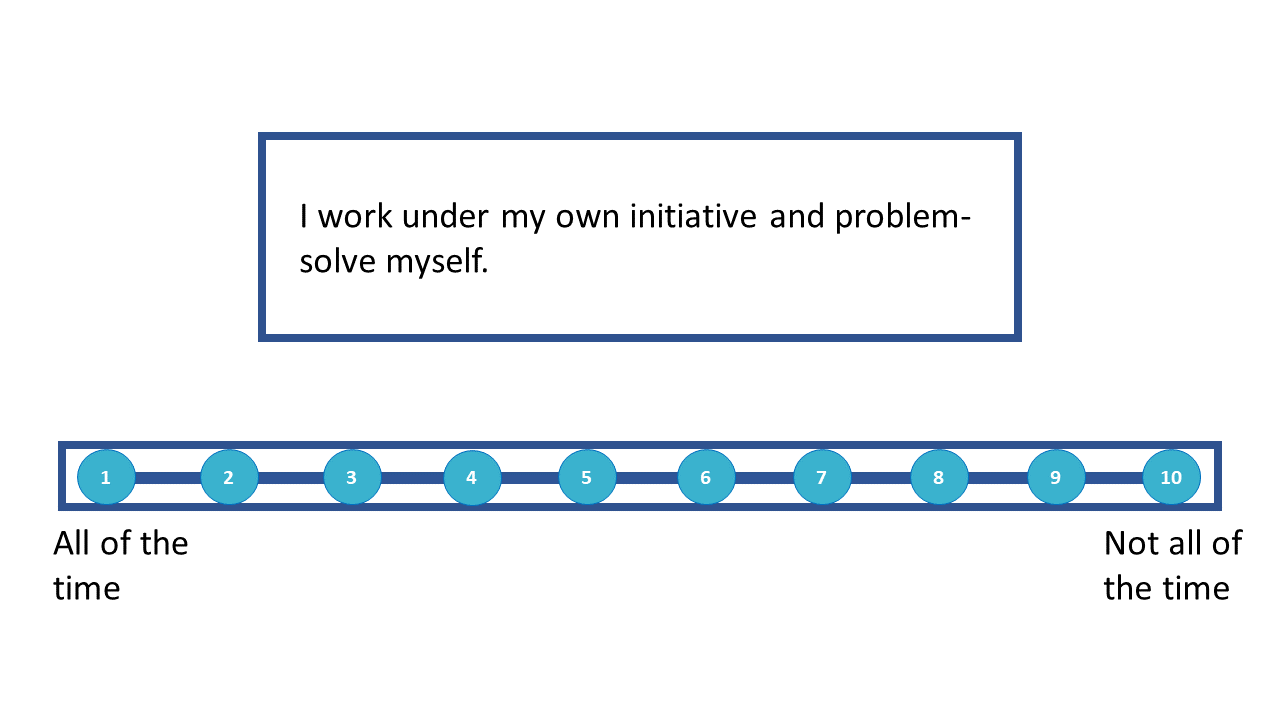 Example Question
2. Select a number to represent your preference.
If you need to prepare for a number of different employment tests and want to outsmart the competition, choose a Premium Membership from JobTestPrep.

You will get access to three PrepPacks of your choice, from a database that covers all the major test providers and employers and tailored profession packs.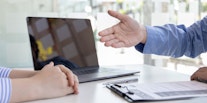 Deloitte Immersive Online Assessment: Examples/Tips/Guide
How Does the Deloitte Online Assessment Affect the Application Process?
It is not the end of the road for the application process if you don't achieve a passing score.
Candidates can fail and still successfully gain a position in the company.
However, getting the best score possible significantly increases your chances of securing a job.
Your results are entered into an online calculator, and you will receive a score of between one and five. Each section is given a rating.
A score of one correlates with underdeveloped core skills. A score of five shows the candidate has excellent core capabilities.
What Comes After the Online Assessment?
All candidates receive a report after taking the immersive online test.
This details your individual strengths and weaknesses. It also offers information on how to maximize your career potential for the greatest success.
After the online assessment, successful candidates are invited to sit a Deloitte job simulation assessment.
These questions involve more intensive situations, and candidates must provide video responses and written responses to questions.
Following the job simulation Deloitte, there is a final interview to complete the process. This may be online or face-to-face.
How to Pass the Deloitte Immersive Online Assessment
Here are some tips to help you prepare for your test.
Step 1. Practice
There are plenty of online resources to help support your test preparation and provide you with deloitte immersive online assessment practice.
These include free and premium options where you can practice similar-style questions.
This will help familiarise you with the question types, find areas to improve on and increase your confidence.
Make sure you brush up on your numerical skills. Pay attention to percentages, ratios and interpreting data.
Practice some Deloitte psychometric tests to help you understand the format.
Step 2. Test Equipment
Make sure your web camera, audio equipment, and laptop are working properly before you sit your test.
Check that you have a strong internet connection and a charger, so you don't experience any technical difficulties.
Calculators are allowed for the assessment, so make sure you have one ready to use.
Remember to keep a pencil and paper handy for taking any notes.
This is particularly useful for jotting down key points from the 'Life at Deloitte' section.
Step 3. Choose the Best Time
Check the deadline and ensure you complete your test within time.
Choose a time when you are feeling focused and able to perform at your optimum.
Whether you are a night owl or a morning person, the flexibility of the test allows you to pick a time to suit.
Make sure you use this to your advantage.
Step 4. Practice Timings
Although the test is not timed, Deloitte expects you to complete the test in a timely manner.
You may be required to do extensive reading and navigate various sources.
This can feel mentally tiring and requires you to remain focused. Practicing similar questions will help you cope with the test situation.
Step 5. Do Your Research
Know and understand the core values of the company so you can reflect these in your responses.
Deloitte's core values are:
Lead the way – Creating opportunity, sustainably
Serve with integrity – Acting ethically and responsibly
Take care of each other – Focusing on respect and wellbeing
Foster inclusion – Embracing diversity and innovation
Collaborate for measurable impact – Working together to deliver value
Consider how these relate to the characteristics of successful employees at Deloitte.
Adequate research into the role also helps you think from the employer's perspective. This gives you an insight into the preferred options.
Step 6. Avoid Distractions
Sit your assessment in a quiet room free from distractions.
Turn off your phone, limit noise and make sure you can focus for the full duration of the test.
Step 7. Read Instructions
When you are under pressure, it can be easy to miss things.
Take your time and remain calm, so you take in all the relevant information.
Track your progress with the progress bar at the top of the screen. This helps keep you on task throughout.
Step 8. Don't Rush
Wrong answers don't lose you any marks. But you do waste an opportunity to show your potential employer your skills.
Remember that the Deloitte online test isn't timed, so you don't have the pressure of running out of time.
You are able to leave questions and return to them later. This means you can review and change your answers before you submit your test.
The Deloitte immersive assessment is the second stage of the interview process for roles at the consulting firm.
The Deloitte aptitude test questions range from situational judgment, personality and numerical reasoning questions.
Designed to identify a candidate's strengths and weaknesses, it is a challenging test that confirms whether an individual is a right fit for a career at Deloitte.
There are a range of ways to prepare for the assessment. There are plenty of free and premium resources online.
These mimic the style of questions you are likely to see in the Deloitte assessment test. This helps improve your confidence to prepare you for the real thing.
There are a total of 35 questions to answer in the test. These are a range of numerical reasoning, personality profiling and situational judgment style questions.
If you are unsuccessful and don't pass the online assessment, you won't be able to resist it.
The assessment isn't a simple pass or fail, as Deloitte wants to find candidates that suit their values and culture.
If you apply for another role at Deloitte, you may be able to sit a similar test.
The Deloitte immersive test is designed to identify candidates who are a good fit for working at Deloitte. It is a challenging test as competition for roles is fierce.
A full guide and practice questions for the Deloitte assessment test can be found at JobTestPrep.
This includes Deloitte's immersive online assessment answers.
To pass the Deloitte test, prepare in advance of your test day. Use sample questions to identify areas you need to improve on, such as numerical reasoning.
The questions in the Deloitte test are related to working at Deloitte. The questions are based on theoretical situations that could occur when working at the company.
You can expect to find situational judgment questions, personality profiling questions as well as those that test your cognitive abilities.
For the Deloitte immersive test, you should study basic numerical skills and practice similar-style questions.
These can be found online, along with Deloitte online assessment answers, to help familiarise you with the type of questions you can expect in the real thing.
The Deloitte immersive online assessment is used by Deloitte. This is one of the big four financial consulting firms, along with PwC, EY and KPMG.
Final Thoughts
The Deloitte immersive online assessment can feel like a complex test. There is a lot of information to take in, and it requires a lot of focus.
As one of the 'Big Four' accountancy firms worldwide, competition is fierce.
Getting the highest score possible significantly increases your chance of passing.
Plan your revision in advance and practice a range of assessments online.
This helps improve your confidence and places you in the best position for success.
---