Amazon Technician Test in 2023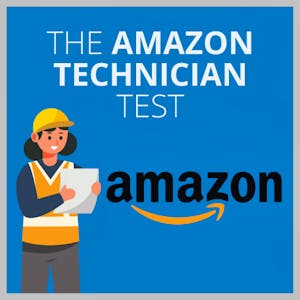 Most companies nowadays require candidates to undergo a series of recruitment stages when they apply for a role.
Each stage is designed to assess a different aspect of the candidates' suitability for the role.
Amazon is no different from other companies in this respect. Potential employees will be expected to undertake a series of assessments and interviews before being offered a job.
One of the stages of the Amazon interview process is the Amazon technician test (also called the Amazon Ramsay Test).
The Amazon technician test involves several different sections including verbal, non-verbal and workplace simulation questions.
Recruiters will then use this information to decide who would be the best possible candidate for the available position.
It forms a common part of the recruitment process for roles as engineering technicians, specifically Maintenance Technician; or Reliability, Maintenance and Engineering Technician roles.
This article will look at what the Amazon maintenance technician assessment test is and what to expect before, during and after the assessment, plus how best to prepare for it.
When Will I Take the Amazon Technical Assessment in the Recruitment Process?
Most recruitment processes follow a typical pattern. This will usually include some or all of the following elements:
Application
Resume screening
Online assessments – this is the stage including the Amazon Technician Test
Phone interview
On-site/in-person interviews
Job offer
Here is a little more information on each stage:
Application
For almost everyone, the start of their journey to becoming an Amazon employee begins with an application.
The application will sometimes simply involve filling in a form with your personal details and experience.
Other applications may also include submitting a CV and cover letter. Most applications will be completed online.
Resume Screening
Once applications have closed, they are then screened.
It is becoming increasingly common for a part or all of this stage to be automated, but screening is sometimes still done manually.
Online Assessments
This is the point where you will be asked to complete assessments such as the Amazon Technician Test.
Your progression through to the next stage of the interview process will depend on correctly answering a certain proportion of questions, the level of which is decided by the employers and may vary from role to role.
Phone Interview
This will be an opportunity for the employer to ask questions relating to your application and the role you have applied for.
You can also use this time to ask any questions that you may have.
On-Site or In-Person Interview
If you are successful with your phone interview, then it is likely that you will be invited to an in-person interview.
This will usually take place on-site and may involve role play assessments, practical skills tests and in-depth interview questions with recruiters.
You can also use this time to clarify any queries you have that couldn't be answered in the phone interview.
Job Offer
Once all of the interviews and assessments have been completed, it will be time for the recruiter to choose their ideal candidate.
If you are successful, then you will be contacted with a job offer.
You can then choose whether or not you want to accept the role.
What Does the Amazon Technical Test Look Like?
The exact test that you will face varies. There are three separate levels of test, each designed to assess a different level of expertise.
Most people will find that they are asked to take the Level Two or Level Three test:
Level One – This is the assessment used for entry-level positions (also called the Amazon Tech 1 or Amazon Maintenance Technician 1 Test)
Level Two – This is the assessment used for intermediate-level positions (also called the Amazon Tech 2 or Amazon Maintenance Technician 2 Test)
Level Three – This is the assessment used for the most experienced positions (also called the Amazon Tech 3 or Amazon Maintenance Technician 3 Test)
Format of the Amazon Online Technical Test
The Amazon Technician Test contains 75 multiple-choice questions. It is completed online using Amazon's dedicated testing platform.
This means that you can be able to be relatively flexible as to how and when you complete it, provided you complete the assessment within the deadline you have been given. There is a two-and-a-half hours time limit for completing the test.
You will be sent an email with a link that will allow you to access the test.
Before clicking the link, you should make sure that you have all of the right equipment available to you. You will need a webcam, microphone and speakers.
Once you click the link, you will be expected to complete the assessment in one go. Your progress will be tracked by the testing platform.
How Can I Prepare for the Amazon Technical Test?
Taking tests can increase feelings of anxiety and worry among individuals. No matter how many assessments you have taken in the past, they are all slightly different.
This is why it is always a good idea to prepare yourself as much as possible ahead of time.
By taking the time to prepare yourself, you can ensure that you will be able to give your best possible performance on the day.
Here are some step-by-step tips to help you.
Step 1. Practice Tests
Practice tests are always the best way to prepare for any test or assessment.
By taking practice tests, you will be able to familiarise yourself with the style of question and the content you are likely to find.
It will also help you find areas where you are a little weaker. This will mean that you can focus your practice and revision to strengthen these areas.
Step 2. Brush Up on the Basics
Although it is important to make sure that you know how to answer difficult questions, it is also important to make sure that you don't make silly, avoidable errors.
These mistakes will usually happen with relatively easy questions that you would usually be able to answer without any issues. Don't spend too long focusing on the most difficult areas of the Amazon online technical assessment.
Taking the time to brush up on the basics of physics, engineering and anything else you expect to be doing in the technician role before you take the Amazon Technical Assessment Test.
Check the FAQ below for the topics that are typically presented on the test.
Also, make sure that you read all of the questions thoroughly and avoid unnecessary mistakes.
Step 3. Familiarise Yourself With the Question Format
This is a multiple-choice assessment, so you will likely have taken tests in the past with a similar format.
Nevertheless, you should still make sure to familiarise yourself ahead of the test so that you can recognize different sections within the test, build confidence and create a strategy for answering the questions.
Step 4. Practice Working Within a Time Limit
You will have two and a half hours to answer 75 questions – that's only two minutes per question. Therefore, you must practice completing this length of assessment within the time limit.
When you do practice papers, set yourself a time limit alarm and don't work beyond that.
Your strategy should enable you to read the questions thoroughly while also ensuring that you have enough time to complete the entire test.
Try looking for key words within each question as a way to get the gist of it before reading it properly.
If a question is taking you a long time (more than a minute-and-a-half), consider moving on to the next question, which will hopefully be one you can answer more quickly. Spending more than two minutes on a single question means you are taking time away from future questions.
Step 5. Make Sure You Get Enough Sleep
You should never underestimate the importance of sleep when it comes to being able to give your best performance during an assessment.
Numerous studies have proven the link between being well-rested and increased levels of concentration and productivity. Getting enough sleep can also help to improve memory as well as reduce feelings of stress.
Step 6. Have a Balanced Breakfast Before the Amazon Online Technical Test
Making sure that you have a balanced diet can significantly help to boost your test performance.
Studies have shown that high protein meals that include complex, slow-release carbohydrates provide long-term energy release, which can help to improve concentration and maintain focus.
There are several things that you can do to ensure that you can give your best possible performance during the assessment.
Practice tests – These will help familiarise you with your weaker areas that require more revision. They can also be useful for learning how to complete the assessment within the time limit.
Rest and a balanced diet – Looking after your physical wellbeing helps with concentration, focus and attention during tests.
Mindfulness – If you are someone who struggles with anxiety about assessments, mindfulness techniques can help to reduce feelings of stress and enable you to focus on the task in hand.
The passing score can vary. Usually, you won't be told what this is.
Recruiters set percentiles that indicate the passing cutoff point. A percentile rank lists individuals in comparison to one another, with the best scores located within the highest percentiles.
Individuals who score above the specified percentile (i.e. that they do better compared to other candidates) are considered for the next step in the interview process.
Once you have completed the assessment, you will be given your raw score which indicates the number of correct answers overall. You will also be given a rating of 'qualified' or 'unqualified' to indicate whether or not you will be moving on to the next stage.
The test consists of 75 multiple-choice questions. It is timed and you will be given two and a half hours to complete the assessment.
The core of the Amazon Technician test involves answering questions relating to a range of subjects.
This will include areas such as:
Pneumatics and hydraulics
Materials, tools and equipment
Electrical theory and test circuits
Print reading
Power transmissions and preventative maintenance
Test instruments
Electronics and programmable logic controllers
The exact subjects and level of difficulty that you will find will largely depend on whether you are sitting the Amazon Maintenance Technician Level One, Two or Three tests.
Not all of the subjects will be included in all tests.
For example, the electronics and programmable logic controllers topic is only found on the Amazon Maintenance Technician 3 Test.
If you are successful, then you will be contacted to arrange a telephone interview.
Employers will use this interview to ask further questions relating to your application as well as role-specific questions to ensure that you have the correct level of knowledge.
This is also an important opportunity for you to ask any questions that you may have regarding the role.
Final Thoughts
If you are considering applying for a role as a Maintenance Technician or Reliability, Maintenance and Engineering Technician within Amazon, then it is important to know what to expect.
More and more employers expect candidates to complete assessments as a part of the recruitment process. This helps them to know that they are hiring the best possible person for each role. It also helps potential employees to understand the level of knowledge they will be expected to have as an employee.
Understanding the recruitment process and the assessments that you may be asked to complete will help you to feel more prepared. All of this will enable you to make sure that you perform at your best on the day, ensuring that you have the greatest possible chance of securing your desired job.
---