A Guide to the OAR Test: Examples & Tips
This article looks at the OAR Test, an aptitude test for those applying to be officers in the Navy, Marines or Coast Guard.
It will delve into what the test consists of, OAR practice tests, the format and the scoring system.
What Is the OAR Test?
OAR stands for Officer Aptitude Rating and the test is taken by those who want to become an officer in the US Navy, Marine Corps or Coast Guard. It is part of the Aviation Selection Test Battery Exam.
To be eligible for the OAR Test, you need to meet the minimum criteria for applying to the officer training program.
The test, developed by the US Military, can be taken up to three times in a person's lifetime, and your score will determine whether you qualify to join the officer training program or not.
The Navy OAR Test consists of math, reading and mechanical comprehension tests and lasts between one to one and a half hours.
It is classed as a progressive aptitude test, which means that the questions adapt to your answers. The better you answer, the more challenging the questions will become.
The scoring system can vary depending on what branch of the military you're applying for, but it is strongly advised to aim to get above the minimum score.
The spaces on the officer training programs are limited and highly sought after, so the higher your score, the more chance you have of securing a place.
Even if you have great fitness levels, good recommendations and history in the Navy, the score on your OAR Test needs to be as high as possible.
Who Is Eligible to Take the OAR Test?
As mentioned in the previous section, to be eligible to take the OAR Test you need to meet certain criteria.
These include:
Being a US citizen
You must be at least 19 years old
The maximum age to apply is 35 years old
You must have a bachelor's degree
You need to undertake a full background check
Commonly, candidates are recommended to become an officer, and have good fitness history and an exemplary record in their career or education.
It is important to remember though that a minimum score on the OAR Test is needed at the least to gain officer training status.
How Is the OAR Exam Structured?
The Navy OAR exam is divided into three topics, namely math, reading and mechanical comprehension, which assess the individual's cognitive abilities needed to become an officer in training.
All questions are multiple-choice.
Here's how each section works:
Math Skills
This section consists of 30 multiple-choice questions and lasts 40 minutes.
The topics covered are based on college-level numeracy, including:
Calculating fractions
Solving arithmetic problems
Angles
Perimeters
In addition to testing these common college math questions, this section measures problem-solving and analysis of charts and figures to find a solution.
Reading Comprehension Test
This section is 30 minutes, with 20 questions, and is commonly considered the easiest part of the test.
The questions are based on a random passage of text with lots of information in it.
This section examines the ability to extract key information from something and make sensible conclusions from what is provided.
Mechanical Comprehension Test
This part of the Navy OAR Test could be considered the most challenging.
With just 15 minutes, the candidate needs to answer 30 questions based on high school physics.
The mechanical comprehension section assesses the future recruit's understanding of the principles of:
Pressure
Weight
Electricity
Engine components
Gases
For OAR test prep, in addition to online practice exams, candidates should revisit high school science and math books in particular.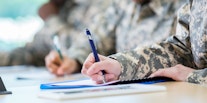 OAR Test: Examples/Tips/Guide
OAR Practice Test Questions
The OAR Test is highly competitive, as places on the officer training program remain extremely limited.
Even though the test generally has a minimum score requirement, this doesn't mean automatic entry to the program. If enough people get higher results, they will get the available places.
With this in mind, it is vital for anyone taking the test to prepare as much as possible.
A good way to prepare is to take an OAR practice test.
Practice tests can be found on a number of websites. These give an indication of what type of questions will be asked, where more study may be needed and they provide practice of doing the test to a time limit.
Below are two sample questions from each section.
OAR Math Practice Test Questions
Example Question
1. What is the value of x if 10x + 20 = 120?
a) 5
b) 10
c) 15
d) 20
Example Question
2. There are six cakes, two of which are chocolate donuts. If picking randomly from a bag, what is the probability of picking out a chocolate donut?
a) 1 in 2
b) 1 in 3
c) 1 in 6
d) 1 in 5
Example Question
1. There is to be a closure at the local primary school as one of the teacher unions is striking. Four out of eight of the teachers are part of this union, meaning they will be striking and there will not be enough teachers for all the children.
Which of the following sentences is not related to the text:
a) There will only be half the teachers not striking
b) There are 300 children in the school
c) More than half of the teachers are needed for the school to remain open
d) Teachers are unhappy and are striking
Example Question
2. Which of the following words is closest to the word 'immense'?
a) Amazing
b) Hard
c) Huge
d) Awesome
Example Question
1. What is an electrical component that holds a voltage across the gap between two conductive materials?
a) Resistor
b) Inductor
c) Capacitor
Example Question
2. You are asked to boil three liquids. Cup one consists of water, cup two has mercury and cup three has alcohol in it.
Which of the cups' liquids will boil the fastest?
a) Cup one
b) Cup two
c) Cup three
If you need to prepare for a number of different employment tests and want to outsmart the competition, choose a Premium Membership from JobTestPrep.

You will get access to three PrepPacks of your choice, from a database that covers all the major test providers and employers and tailored profession packs.
How Is the OAR Test Scored?
It is important to know how the score is calculated, and what results are expected from candidates. This helps in preparing for the test and also provides reasons if an individual does not qualify for officer training.
It is good to start with understanding how the questions are set. They commonly start with medium difficulty questions, and the candidate's performance will determine how easy or hard the next section is.
If a person does well in the first set of questions, the next set will be harder, and vice versa.
Of course, the more correct answers a candidate gives, the more points they will score.
Your OAR results will be given a cumulative score between 20 and 80, and most common scores are between 40 and 60.
The specific military service you're applying for will determine what minimum score you need to qualify. However, qualifying does not necessarily mean securing a place on the training program.
The common minimum score to qualify for a place at officer training school for the Navy is 35. However, being a very competitive program, it is strongly recommended that people aim to score higher than the minimum.
With only limited spaces available, the highest scorers will go through to the program.
If an individual does score below the minimum, it is possible to take the exam up to three times in a person's lifetime with a gap of 30 days between each test.
Best OAR Study Guide Tips
Taking into account that you need to get the highest score you can and can only take the OAR Test a maximum of three times in your life, it is imperative to study and prepare.
Here is our step-by-step Navy OAR study guide:
Step 1. Understanding Expectations and Formats of the OAR Test
Know how much time each section allows and what type of questions will be asked.
This helps to avoid any unexpected sections, and allows for the candidate to revise under timed conditions.
Step 2. Taking a Navy OAR Practice Test Online
This will give the candidate a chance to practice under the same time constraints as the real tests.
It will also give them insight into any topics they need to revise more.
Doing multiple tests will give a broad insight into the types of skills that will be assessed. It is the ultimate way to prepare.
Step 3. Reading and Revising What You Already Know to Nudge the Brain
All the questions will be based on information the candidate will already know, but will just need to remind themselves of.
Math that is learned in high school or college can quickly leave the brain – but will need to be forefront in candidates' minds for this test.
Reading about physics theories will help with the mechanical part of the exam.
Step 4. Having Sufficient Rest
Getting mentally and physically prepared with enough rest before the OAR Test will give the best chance of a good performance.
The OAR Test, or Officer Aptitude Rating Test, is an exam taken by men and women in the US wanting to apply to officer training school for the Navy, Coast Guard or Marines.
It tests skills needed for officer training, including math, reading and mechanical skills.
The OAR Test is approximately one and a half hours long. The reading comprehension section is 30 minutes long, the math section is 40 minutes and the mechanical section is 15 minutes.
You can prepare for the OAR Test online with free OAR practice test questions, which can be answered under the time constraint that is given in the actual test.
By doing these practice tests as part of your OAR test prep you will see which areas you need to revise more to pass the test.
The OAR Test consists of three sections, math, reading and mechanical comprehension. These sections cover skills that are needed for qualifying for the officer training program.
You can find example questions for the OAR Test online in free practice tests.
These questions cover the three sections: math, reading and mechanical skills.
Final Thoughts
The OAR Test is an aptitude exam used by the military to assess if someone is suitable to join the officer training program for the Navy, Coast Guard or Marines.
A place on this program is highly sought after, meaning getting a good score in the OAR Test is vital to secure a place. Just scoring the minimum requirement does not guarantee a place.
With this in mind, it is highly recommended that candidates properly prepare with lots of OAR practice tests and revision of math and physics topics. Candidates should also ensure that they are fully mentally and physically prepared for the exam.
---